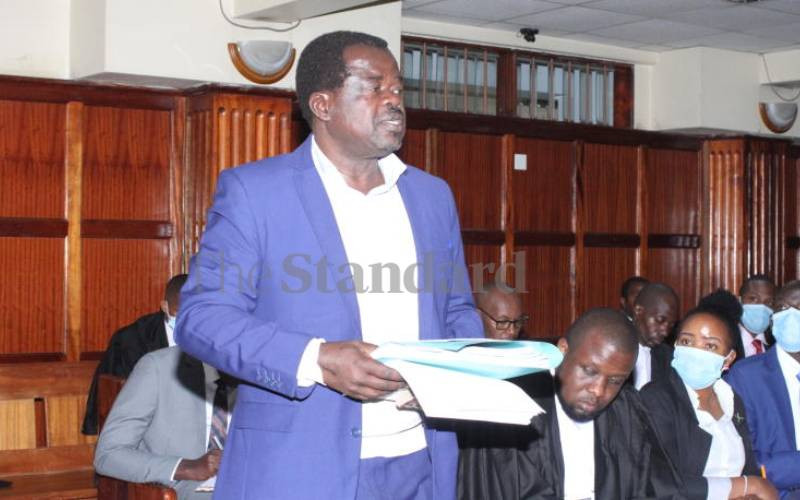 Ordinarily, Okiya Omtatah's name is synonymous with public interest litigation. However, he has tossed his hat in the political ring and is vying for the Busia senator seat on a National Reconstruction Alliance (NRA) ticket.
Omtatah is up against Doris Wako (Labour Party of Kenya), Hillary Itela (ODM), Moses Amoo Oude (UDA), Wellington Emoru (independent), Braxwell Shiundu (Federal Party of Kenya), Kuchio Ongoma (DAP) and Isabella Masinde (Jubilee).
Despite the stiff competition, Omtatah maintains a positive outlook. "My candidature has been received warmly. I am up against eight competitors and I must keep working on my goal. I do not underrate anyone," he says.
Itela also exudes confidence as he engages residents in door-to-door campaigns that he believes give him firsthand knowledge of the real challenges of the people of Busia.
"We are beneficiaries of overwhelming welcome and support from voters in Busia County. Indeed, many trust our promised process of change that, ideally, is geared towards bringing relief to them," Itela says.
"There are a number of issues that require attention in Busia. I will use my oversight role to set up systems to do just that. We should join hands to make Busia great again," says Ms Masinde, who is also determined to make Busia, typically a semi-arid area, green again.
The aspirants promise an open governance system, transparent leadership, reforms in the education, health and agriculture sectors as well as restoring Busia to its rightful place in county rankings. Job creation and value addition also rank top in their manifestos.
"We are the link between the national and the county governments. We shall ensure prudent use of public funds so that the taxpayer benefits. The welfare of the less privileged and women must be taken care of if we are going to improve the general welfare of society," according to Wako.
An affinity to litigation in a bid to repossess grabbed public is a hallmark of Omtatah's style. "I recently won a case that has been dragging in court for the last eight and a half years. The land, totaling 843 acres, had been stolen from Busia Sugar Factory," says the activist.
"Schemers who took advantage of Busia Sugar Factory's (BSF) failure to take off formed the Busia Sugar Company (BSC) and appropriated part of the land belonging to Busia Sugar Factory," Omtatah says.
He has also secured restraining orders against two individuals who had laid claim to land belonging to the defunct Busia Airstrip.
Omtatah, Masinde, and Itela share the view most problems facing the people of Busia can be solved through proper legislation.
"There are a number of issues that require immediate attention, but most of what I set out to achieve will require legislation," Omtatah says.
Itela promises that if elected he will perform his duties well and this will include oversight and defending the rights of the people.
"I will use my oversight position to set systems in place that will help resolve most of the problems facing Busia. We should join hands to make our county great again. I am also determined to make Busia, more of a semi-arid area, green again," he says.
The aspirants say the outgoing county leadership has let the people of Busia down, with nothing much to show for the ten years of devolution.
"There is a need for civic education. Most people do not understand the role of a senator, which is basically oversight. We need to engage the people through public participation in the running of county affairs. Particularly, they should be actively involved in the budget-making process for purposes of accountability," Itela says.
Omtatah promises to introduce good governance in Busia.
"Accountability of resources and proper allocation to development projects is my dream. Transparency will be my guiding light. I will set up a website on which everything I do as a senator will be posted to ensure my people are updated on what their government is doing. Further, I will ensure all the 35 MCAs have websites on which they can post everything they do."
He says Busia is a hardship area and he will see to it that it gets that recognition.
"I will petition the national government to classify it under Arid and Semi-Arid Lands. Shockingly, Busia's forest cover is just one per cent. We must reclaim the land whose soils are now going to waste," says Omtatah.