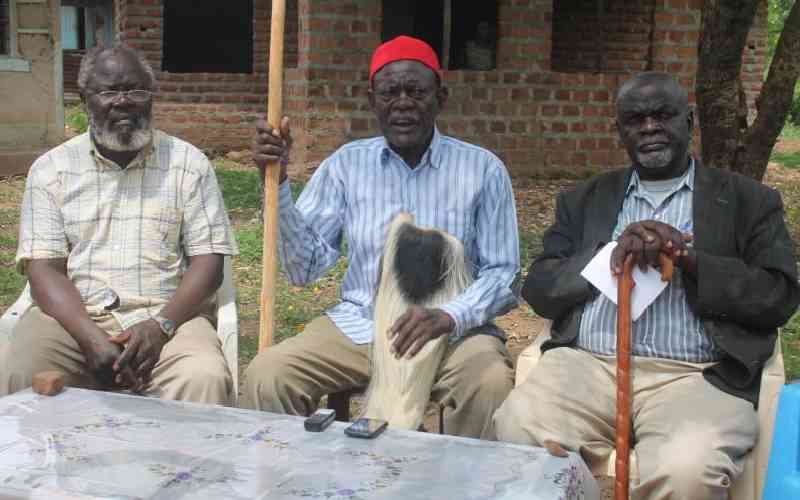 In their heydays, their presence in important functions was always striking. Clad in special traditional attire, including special robes and a flywhisk, members of the Luo Council of Elders were a force to reckon with.
Their 'Oteku' (absolute power) penetrated the region with the potency of venom and their words played a key role in determining key issues in the community and fostering unity.
Now, however, the council has become a pale shadow of its former self as internal wrangles persists and fresh divisions emerge in the wake of the ongoing political dispensation.
In the build-up to the August 9 polls, some members of the council have been faulted for stirring local divisions by endorsing candidates eyeing various seats for monetary returns.
Several factions of council of elders have emerged in the region, with all scrambling to endorse candidates, jeopardizing their role of fostering unity among in the community.
In the region, almost all the candidates eyeing governorship seats have received the 'blessings' of elders. Different factions have been endorsing different candidates.
This comes in the wake of the split that has seen two elders claim the leadership position of the council. Opiyo Otondi and Nyandiko Ongadi claim to be the legitimate chairmen of the council and are leading different factions.
Faction members have also become a hotcake for politicians seeking endorsements with an aim of getting an edge over their opponents.
At the weekend, Kisumu Governor Anyang Nyong'o became the latest politician to be blessed by the elders after the Otondi endorsed him to defend his seat. The event that attracted other elders allied to Otondi faction took place in Nyahera.
In South Nyanza, elders have also been endorsing candidates. In the region, Ongadi is leading another faction of elders who are all scrambling to endorse politicians.
But in a twist, Otondi and Ong'adi have dismissed the issue of members of their councils endorsing politicians and claimed it is against the law of their council.
They said it is not the role of elders to officiate political bids but rather to bring peace and unity among the leaders and the people.
According to Otondi, their role as council is to stand by everyone vying for any political without discrimination. It however remains to be seen if he will also endorse other candidates competing Nyong'o.
"We are for everybody and getting involved in the endorsement of leaders is causing division amongst us which is opposed to the guidelines of council of elders," said Otondi.
Giving directions
He said their political role as elders is strictly to give direction and advice to any leaders who seek their input. He called upon all the elders from various parts of Nyanza to advocate for unity, peace and order in the region as we head towards the elections.
Otondi has called on ODM leader Raila Odinga to help bring order in his camp.
He feels Raila is giving too much attention to the Azimio la Umoja coalition forgetting there are other parties within the coalition who are feeling neglected in an ODM dominated region.
"The issue of 'six piece' is a bad idea that is causing distraction among leaders and the communities in the region hence the cross-section endorsements," said Otondi.
Ong'adi said all sub counties have a community council of elders who govern each community on a sub county level.
He said as a council of elders, they are allowed to sit on one table with any political candidates who call on them to seek for blessing but not endorse them. "If a politician calls on his chosen elders to bless his bid, our duty is to stand by him in prayer as tradition demands without necessarily choosing sides," said Ong'adi.
He added that their role as elders is to bring peace among any leaders with differences through mediations.
"If there are two leaders with differences, we bring them together," he said.
An elder who claims to be a member of one of the factions claimed that they are always paid between Sh10,000 and Sh50,000 to 'bless' politicians for seats.
"We play an important role in guiding the community on the leaders who have presented themselves for seats. As elders, it is our role to do that," he says. However, he claimed that some of the members were driven by greed.
According to the elder, the perennial leadership wrangles within the council has made it easy for elders to endorse politicians without seeking for any authorization of the council's leadership.
In an interview with The Standard, both Otondi and Ong'adi insist they are the rightful chairmen of the council.
When asked about the leadership wrangles between him and his counterpart Otondi, Ong'adi said he was rightfully chosen for the role.
"I am the only chair to the Luo council of elders with all the certificates to show for it. My rival is a quack who is pushed into leadership by politicians with selfish agenda," Ong'adi said.
The developments have attracted ridicule from residents who claim they have adopted a similar trend that colonial chiefs who collaborated with the British used for personal gain.
The chiefs were christened 'Jodong' aich' (Elders of the stomach) for their appetite for material benefits.