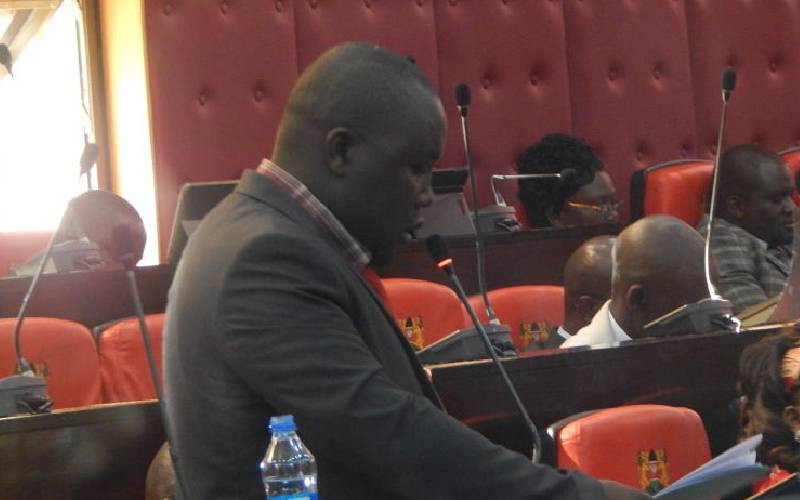 The IEBC Disputes Resolution Committee has nullified Homa Bay County Assembly Majority Leader Oscar Abote's clearance to run for the South Kabuoch MCA seat.
This after two individuals who competed with him in the ODM party primaries lodged a successful petition with the electoral body, challenging failure by the party to conduct a fresh nomination exercise as directed by the Political Parties Disputes Tribunal (PPDT).
Mr Abote had been cleared by the IEBC to run on an ODM ticket.
Loice Kawaka and Roseline Awino, who competed with him in the primaries challenged the IEBC decision. They had listed ODM party, its national elections board and Ndhiwa Returning Officer Ms Rebecca Abwaku as respondents.
The committee, chaired by Mak'Ogonya Tiego, nullified Mr Abote's clearance on various grounds.
Ms Kawaka and Ms Awino said Political Parties Disputes Tribunal (PPDT) nullified Mr Abote's nomination and ordered ODM and its elections board to conduct a fresh nomination for South Kabuoch Ward after the April 14 nominations.
They said ODM and the board disregarded the directive, and instead gave Abote a free nomination ticket without consulting Awino, who is still a member of the party.
Mr Abote defended himself, saying Ms Kawaka lacked relevance to challenge his clearance since she had ceased being a member of ODM party. He argued that his direct ticket had not been challenged through the party internal dispute resolution mechanism.
The committee argued that Mr Abwaku cleared Mr Abote despite knowing existence of the order by the PPDT, that required ODM and its national elections board to conduct fresh party primaries via universal suffrage.
"Now that this committee is aware of the orders of the PPDT directing for fresh nominations through universal suffrage, and failure by ODM to implement the said orders, we have no option but to nullify the decision by Abwaku to clear Abote," the committee ruled.