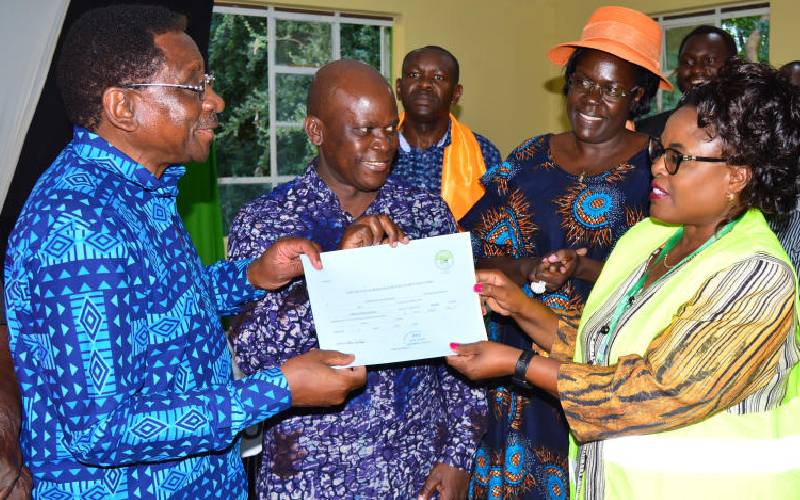 He has been an ever-present figure in Raila Odinga's political endeavours, never missing an important moment in the Azimio la Umoja presidential candidate's political life.
He has defended Mr Odinga against his rivals, both during press conferences and in the courts. He led a team of lawyers that successfully challenged President Uhuru Kenyatta's win during the 2017 elections that saw the Supreme Court order a repeat presidential election.
An accomplished lawyer per excellence and a veteran politician with a career dating back to the early 1980s, Siaya Senator James Orengo's performance in national politics and in corridors of justice has made him a political force.
This has also propped him in Nyanza politics where he has repeatedly won seats effortlessly in the last three general elections. Sometimes he won without mounting a campaign or even printing posters.
In 2017 he won the Senate seat without printing a campaign poster or erecting a billboard. He garnered 372,075 votes in the race against his closest challenger, Jacob Ochieng of Jubilee, who managed 6,265 votes.
Mr Orengo is seeking to succeed Cornel Rasanga as Siaya governor. In the process, he has missed some important moments in Mr Odinga's campaigns as the ODM leader makes a fifth attempt at the presidency.
Mr Orengo's position in Mr Odinga's inner circle appears to have been taken over by Suna East MP Junet Mohamed who has been by Mr Odinga's side. He has emceed almost all of Mr Odinga's meetings. Junet has also taken Mr Orengo's role of responding to Mr Odinga's opponents or attacking them when necessary to score political points.
Mr Orengo faces stiff competition from former Rarieda MP Nicholas Gumbo.
Mr Gumbo, whose running mate is former journalist David Ohito, is among politicians trying to challenge ODM's dominance in Nyanza politics. Mr Orengo has picked businessman William Oduol as his running mate.
In the last general election, Mr Gumbo ran as an independent candidate and garnered 179,368 votes against Mr Rasanga who amassed 198,889 votes to retain the seat.
Jubilee Party's Salim Akello got 1,226 votes while Daniel Odhiambo (independent) got 1,348. Noah Winja was last with 787 votes.
This year, Mr Gumbo is the United Democratic Movement (UDM) party candidate. The party is led by Mandera Governor Ali Roba.
Unlike in the past when Mr Orengo spent most of his time in the national politics supporting Mr Odinga and would still win, this year, the senator is not leaving anything to chance. His absence in Azimo's meetings and rallies has been conspicuous.
Mr Orengo has been traversing Siaya in his attempt to win over voters, holding meetings with different groups as he markets his bid.
Moments after being cleared by the electoral commission to run for the seat, Mr Orengo said: "Do not write me off." ODM members have over the years viewed Mr Gumbo as a spoiler and have thrown their weight behind Mr Orengo.
Tight race
The race, according to political pundits, will be determined by one's track record, clan politics and one's development agenda. Mr Gumbo has dismissed Mr Orengo's bid, saying the senator "is not development-oriented".
But a bullish Mr Orengo has claimed he is the best bet to take Siaya to the next level of socio-economic development. "My track record speaks for itself," he told a campaign rally on Monday.
Speaking at the rally in Bondo after he was cleared by the IEBC, Mr Orengo said he has a concrete development plan. "While our opponents are busy name-calling, we are telling the people what we will do for them," he said.
Mr Orengo, who has changed his campaign strategy from public rallies to town hall meetings with different groups, dismissed claims that he was only good at playing national politics. Mr Gumbo is also not leaving anything to chance. He believes he has a real chance of trouncing Mr Orengo after narrowly losing to Mr Rasanga in 2017.
Mr Gumbo said he hopes his track record when he was MP as well as his political experience will help him clinch the seat. Some have termed the race as being squarely between Mr Orengo and Mr Gumbo even though Millicent Oduor of UDA is also in the race. Ms Oduor and Mr Gumbo were cleared by the IEBC on Saturday.
Mr Gumbo was initially to be deputised by former National Police Service spokesman Charles Owino who dropped out midway. The UDM candidate then settled on Mr Ohito, who is also the party's secretary general.
Mr Gumbo's candidature is seen as an attempt to frustrate ODM, but the former MP has downplayed the claim saying, "ODM's primaries have been shambolic because of some leaders who have let voters down."
Mr Orengo's closeness to Mr Odinga cannot be gainsaid. He has played major roles in his political struggles, ranging from his participation in the negotiation team following the 2007 post-election violence that led to the formation of the Grand Coalition government, to being the lead counsel in Mr Odinga's successful 2017 presidential petition.
Mr Gumbo raided Ugenya, Mr Orengo's backyard, and settled on his distant relative Mr Ohito to be his running mate. Mr Orengo's running mate Mr Oduol comes from the vote-rich Alego-Usonga.
Peaceful campaigns
Addressing the media after receiving his nomination certificate on Saturday, Mr Gumbo expressed confidence that he will win.
"I will strive to conduct peaceful campaigns," said Mr Gumbo who dismissed ODM candidates' call for six-piece voting. Mr Gumbo said they are all in the Azimio-One Kenya coalition and should not be mistreated. "Our presidential candidate is Raila Odinga and we should direct all our energies towards ensuring he wins the presidency," Mr Gumbo said.
He cited structural deficiency in running the affairs of the county since the inception of devolution, and said his intention is to make Siaya a first-class county.
"Getting a nod from the electoral agency to run has put to rest speculations about my candidature," Mr Gumbo added. Some analysts say his image as a person who is enthusiastic and passionate about change for development may prove to be an asset in his quest.
"He has a perception around him that he is development conscious and given an opportunity, he will move Siaya to the next level," said Salim Odeny, a political commentator.
Mr Orengo said his main agenda is to ensure good governance. "We're going to launch our manifesto in the next 10 days where we'll tell the people of Siaya exactly what we want to do for them."
[Additional reporting by Olivia Odhiambo]