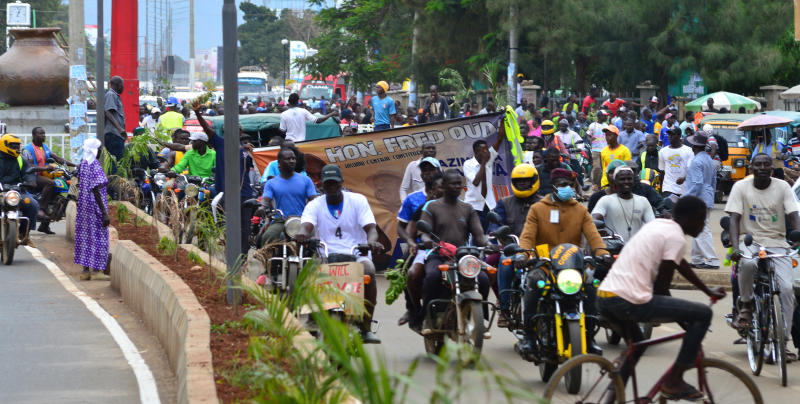 Constant bickering, claims of turning into praise teams for the Executive and misuse of public funds are among the reasons that saw ODM members reject majority of MCAs in Nyanza.
The biggest casualties of the primaries were ODM MCAs in Migori allied to Governor Okoth Obado who has been giving the party sleepless nights after he decamped and joined PDP Party. In Kisumu, some 20 MCAs out of 32 MCAs including Majority Leader Kenneth Onyango were sent home.
A number of voters told The Standard that most of the MCAs they opted to send home failed to undertake the roles they were charged with and instead opted to praise the Executive. They also claimed others defied the party that sponsored them during their term in office and have not pushed for ODM's agenda at the floor of the House.
In the entire Nyanza region, a majority of the MCAs were shown the door. In Migori County, only five MCAs survived the purge while in Homa Bay, only five MCAs survived. A similar trend was also witnessed in Siaya where only four MCAs survived with ODM members in Siaya claiming that most of their MCAs relocated to Kisumu after winning seats in 2017.
Josephat Otieno, a voter in Kisumu East Constituency claimed they send all the MCAs in the sub-county home because of poor performance.
"There are several stalled projects, but our MCAs have been silent. It was hard for voters to trust them with another term," he said.
In the exercise, ODM members gave six former MCAs another chance for a comeback after they were trounced in 2017. The list include former Manyatta A and Manyatta B MCAs Nereah Okombo and James Were as well as former East Kano MCA Moses Ochele. In Migori, all MCAs allied to outgoing governor Okoth Obado were given matching orders by ODM voters as their past opposition of the party's decisions came back to haunt them.
The group of 33 MCAs who failed the nomination test included those who opposed an attempt by the ODM party to have Obado impeached as well as those who have been working closely with his regime.
The aspirants who were floored include acting Speaker and Macalder Kanyarwanda MCA Reagan Duro, Majority Leader and West Sakwa MCA Nestroy Owiyo, Minority Whip and South Kanyamkago MCA Kevins Keke, Muhuru Bay MCA Hevrone Mahira and West Kanyamkago MCA Peter Mijungu.
All the floored MCAs were in support of governor Obado and were against an impeachment motion against him, save for Mijungu, Mahirah and Duro. The acting Speaker, Duro emerged third with 800 votes after losing to Felix Okwanyo who garnered 1,146 votes.
Some of the losers are now contemplating defending their seats as independents. In October, last year ODM chair John Mbadi called on voters to kick out all MCAs in Migori for failure to safeguard devolution in the county.