Homa Bay: New road hailed, but village demands bridge to prevent flooding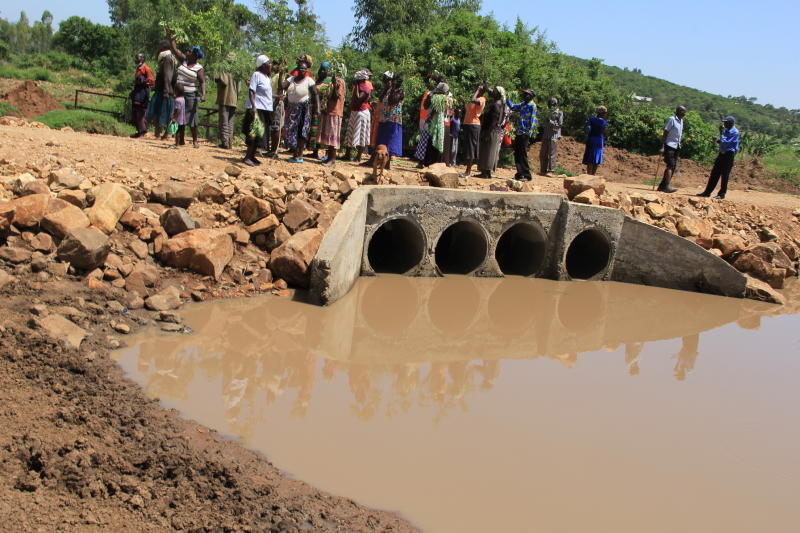 Residents of Rangwe in Homa Bay want the government to build a bridge across River Maugo to save their crops from destruction when it floods.
The Kochia East location residents said the culverts erected on River Maugo along Otolo – Ang'iro road only worsened flooding.
The Kenya Rural Roads Authority appointed contractor installed culverts across the river and levelled them with murram a few weeks ago. The culverts were placed a few meters from a dilapidated bridge that residents relied on to cross the river.
But residents realised after heavy rains that the culverts were too narrow to allow free passage of water, causing overflow and flooding. Crossing the river when it rains is also a challenge, and residents have raised concerns over dangers posed as a result.
East Kochia Development Forum chair Mr William Odero said the most at risk were candidates sitting national examinations.
Mr Odero said a bridge was crucial for pupils at Otolo Primary School on one side of the river and Ang'ro Primary on the other. "We are in March when heavy rains are starting here," he said.
They also expressed concerns that floods had destroyed vegetables, onions, sugarcane, rice, maize and beans in the farms.
Ms Rose Ojweke, a widow, complained that she had lost vegetables due to flooding. "My vegetables have withered after the culverts caused floods in my farm," said Ojweke.
Locals want government to remove the culverts and build a bridge.
Mr Odero said the bridge would enhance free flow of water in the river to Lake Victoria. "Constructing the Otolo–Ang'iro road was very good. But we need a bridge on this river to cushion us from the flooding tribulations," Odero added.