Residents forced to disturb the dead to evade nature's wrath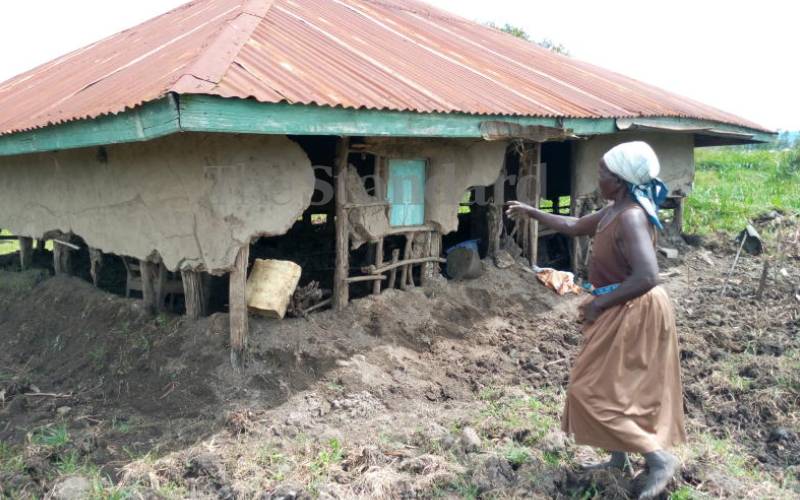 Not even the dead have been spared intrusion by climate-induced disasters, especially flooding in the Lake Victoria basin.
The worst has been exhumation, which an affected family in Nyando Constituency is not available to comment on. One Jacktone Otieno, a local, however, confirms.
A walking distance from where floodwaters exhumed the body of a man, displaced persons have invaded a home. Joyce Aoko Odongo has renovated and now occupies a once dilapidated single-room mud-walled house in "Nya Masogo's" home. The latter, her husband, co-wife and children died long before the 2019 flooding, and no one occupied their home until the displaced families arrived.
Aoko, a mother of two teenage sons in Form Three and Two, says this is a better option. "The tents are cold at night and hot during the day". At night, one of the boys sleeps on a seat, and the other a mat on the floor. "I sleep the other side of the curtain with their father," Aoko says.
The other two houses in the compound are occupied by two families. Two tents belonging to two more families stand there. Aoko wishes government could offer finances for businesses as they wait to rebuild in their former homes once 10-kilometre dykes being built on River Nyando are done.
When disaster struck in 2019, Mary Akinyi suffered. "I have a disabled child. He cannot use crutches on the muddy surfaces. I had to send him and his brother to the house my mother left behind. No one occupied the home at the time," she says.
She fends for the boys, both students.
Akinyi has been displaced several times, the first being in 2013 when her husband was ailing. They were moved to Ogenya Primary School. A month later, as schools reopened, the family moved into a house whose owners had long died. Once the water receded they returned to their home. Her husband soon died.
A year later, flooding displaced Akinyi and her two sons. She returned to her home months later but was displaced again in 2019. "My family is split. My husband's remains lie in our home. My sons are in my maternal home, while I live in a camp," she says.
Atieno Ochieng', 32, mother of six at a camp in Ogenya, wishes she could get an abandoned home. "I'd run there. We no longer fear the spirits of the dead," she says.
She complains of lack of privacy, frequent rashes, flu and malaria. "And with a grown child, sex is almost prohibited. It is tough," she says. "It is also difficult to talk freely, whether with someone near or on phone."
Her firstborn is a Form Two, while the last is two. She is thankful for bursaries from the constituency office. "Let the dykes' construction be fast-tracked. Even if we eventually return home, we will need to rebuild," she adds.
Atieno dropped out of school in Class Seven and married at 15 "because of poverty, having been orphaned." She fears perennial flooding may snatch local men wives. "Some women leave their matrimonial homes as if to take a break from the flooding, then never return," she says.
Lucia Abok, 55, occupies a house belonging to a family that rarely goes home. "I called and begged to have their house, albeit temporarily," she says.
Abok's husband is out fishing. Her daughters sit outside the semi-permanent house. "My daughters are visiting me in someone's house; no dignity," she says. "We are usually eight, but in December my daughters visited with their children. Now we are 12 in this small house."
Abok says: "Without privacy in the shared houses or tents, you cannot have sex".
Her home is almost a kilometre away, sandwiched between Ogenya Primary School and a health centre, both waterlogged. She offers to take me there, but the trip aborts as we cannot walk past Agneta Auma Akelo's equally waterlogged compound, where hyacinth is beginning to grow.
Auma, 60, her two sons and five grandchildren do not live there. She is there to plant vegetables. What was once her house is sinking, the lower parts of its pillars washed, leaving nothing to hide what the floods destroyed therein. Her two sons' houses are damaged too. "I have lived in the camp for three years. I miss my home," she says.
Auma, who has been displaced thrice, plants the vegetables well aware that hippos might destroy them as soon as they sprout. She shows me hippos' footprints. "This one (hippo) must have passed here last night. It is tough, but I want to try because vegetables are so expensive," she says.
Her other fear is "crawling creatures".
Gladys Achieng', 38 and mother of seven, says she was once bitten in the floodwater. "The snake's fangs remained in my skin. I got drugs and first aid before going to the hospital," she says, then recalls a "Nyar Ringa", also bitten by a snake not too far from the camp last year.
She says lack of privacy is affecting teenagers, especially girls. "There is no room for them to comfortably change clothes. It is worse during menses," she says.
Rose Atieno, a mother of three, sent her two older children to live with her parents and now stays with her husband and their infant at the camp. She wants the local MP to build them a house.
Margaret Owalla, who lives in a tent in a home abandoned near Gogni camp, says: "We have handled cases of teenage pregnancy at the camp. I can count four."
The flooding has not spared infrastructure and social amenities. One health facility in Ogenya is useless. It is not too far from the Ogenya School that is also waterlogged. "It's difficult to send health workers to waterlogged health centres. Women and children who get ill more often suffer," says area MP Jared Okello.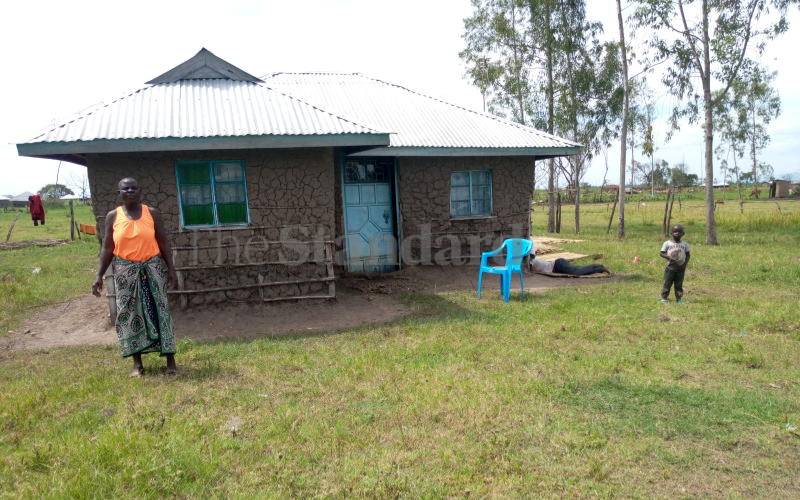 Locals are, however, happy to have a good number of health centres nearby, which Mr Okello attributes to efforts by the Anyang' Nyong'o-led Kisumu County. Elsewhere, Ombaka Secondary School in Kaloo is abandoned after it was messed up by floods. A new Ombaka Secondary School stands in Kakola. Nearby, a church is falling, while tens of houses cannot be occupied. At the new Ogenya Primary School, the construction of three classrooms is ongoing. Five are done.
Diana Atieno, who sells water at the site, says she was displaced in 2020, but their home has since dried and they are back there. While at the camp, she says, they suffered mosquito bites, malaria and other diseases. I ask about mosquito nets government donates, and she says: "They help when you go to sleep. The mosquitoes start biting quite early."
A lot of wells and boreholes were destroyed in the flooding, but villagers have adequate access to potable water. For lighting, many use candles, solar or tin lamps. Some are still paying for solar, while others have defaulted. Many prefer firewood to cook. A few use charcoal.
Otieno Miruka, a past victim of flooding, says there is hope. His family relocated to Kakola due to flooding, but he is happy some families are rebuilding knowing the dykes will prevent flooding in the next rainy season in March. The ones I see use iron sheets on roofs and walls. "Those materials are easier to salvage during flooding," says Miruka.
According to Okello, at least 500 households in the constituency were displaced by the 2020 flooding. Elizabeth Ocholla, a lecturer at the University of Nairobi, who has researched the flooding menace in Nyando, says: "Women are natural caregivers. But climate change exacerbates their burden, especially when disabilities or illnesses exist. The disruption may cause the terminally ill or those on family planning to miss drugs. Children's clinic visits may also be disrupted."
Ms Ocholla says sex is a luxury for adults in camps because of limited space "yet teenage girls get into sexual traps with older men and boda boda riders for as little as Sh100 to buy sanitary towels and soap."
"Women can sacrifice their sexual desires and concentrate on families, but suffer outbursts from sexually starved men, who may unconsciously be irritable," the lecturer says, and adds: "Some men abandon their families and return only after normalcy. The women forego the little food rations to feed the children and the elderly thus jeopardising their health and physical well-being"
Okello says the National Irrigation Authority, saccos, county and national governments have helped, but now need coordinated effort to manage the climate-induced disaster, even as a long-term solution; building of the Koru-Soin Dam, is pursued.
The writing of this story was enabled by Wan-Ifra's Social Impact Reporting Initiative (SIRI). Views presented in this article are the writer's observation and research.