Fleeing home saved us from 'cut', say girls at rescue centre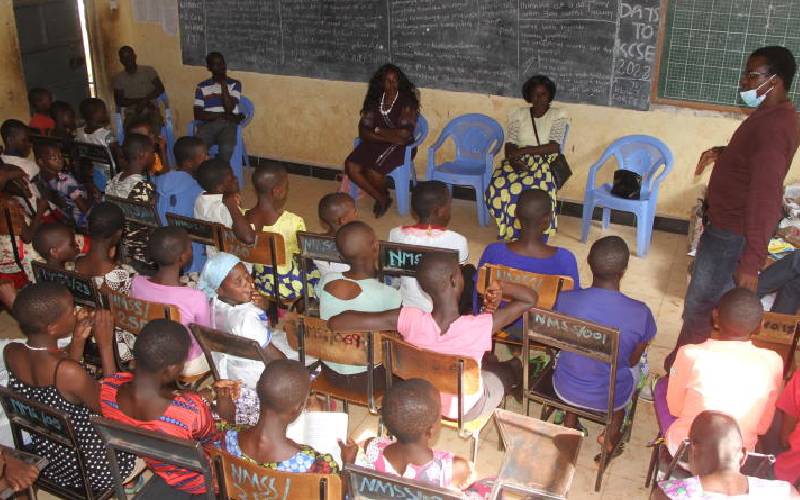 Donning hats and lesos and carrying umbrellas, young girls are seen marching along the Migori-Sirare road. The girls, escorted by their parents, are marching to a place where, at the end of the day, they will undergo female genital mutilation (FGM).
The girls are cheered on by villagers who shower them with gifts such as bread, lollipops and money.
Despite the community knowing that the practice is illegal, the girls are paraded in broad daylight, some after being 'cut'.
In other areas where surveillance has been heightened, parents sneak their daughters into neighbouring Tanzania, where they have other family members, for the 'cut'. Tanzania has fewer restrictions on FGM.
On the Kenyan side, it is a cat and mouse game between the villagers and the authorities. Some circumcisers are now taking their 'services' to individual homes.
Female circumcision usually starts in December among the Kuria. This year they started as early as December 13 when schools were still open.
It is only the lucky few who manage to run away to escape the cut.
Nancy Ghati (not her real name) narrates how she fled home because her father wanted her circumsised.
The Grade Five pupil says that everything had been prepared. He father had bought her an umbrella, 'leso' and a cap which she would use while going to be 'cut' on December 22.
Ghati, who was against the plan, shared her fears with her mother and later fled from home on Sunday, December 19, to evade the 'cut'.
This was after spotting some of her friends running away from their homes to seek shelter at Nyangoge Mixed Secondary school, a temporary safe space.
"I went and took my clothes after seeing some of my friends run away and come to this place," Ghati narrates.
To lure her, she was told that she would not get married or be able to give birth.
For Nereah (not her real name), her mother helped her flee.
She narrates how her father took her to her aunt's place where she was supposed to get 'cut', but her mother went and brought her back home.
Enraged by her mother's action, her father kicked both of them out of their home. They now live at the safe house.
Nereah and her mother have no hope of going back home after her father followed them to the safe space with a machete and threatened them.
"We don't know where we will go after we leave this place," Nereah says. Schools are set to open in January and they and the other girls and women will have to leave the dorm they are occupying.
Christine Bhoke (not her real name) had to flee from home when neighbours wanted to forcibly subject her to FGM.
Her parents have never supported the idea that she undergoes FGM. Bhoke has fled home four times and only returns when the circumcision season is over.
Immediately she got from school a few days ago, her parents warned her that the situation was not so good and that she ought to hide.
"Our neighbours were hunting for me and they wanted me to get cut," Bhoke says.
Safe space
The three girls are among 106 others who have sought shelter at a safe space in Kuria West Sub-county after they ran away from home.
Janet Robi, a children's officer in Mabera Sub-county, says that in most cases, it is not the risk at home that makes the children run away but the risk in the villages.
"It is not their parents that are forcing them to undergo the cut. It is the relatives and neighbours and peer pressure," Ms Robi says.
By the night of December 21, the number of the girls at the safe space was at 80 but increased to 106 by December 22 with the number of rescued girls expected to increase.
On December 22, 10 girls were produced before court and were placed as children in need of care and protection while four parents were charged and released on bond and some fined.
Robi says that there are situations where only girls were produced in court while their parents were at large. Migori County Commissioner Meru Mwangi admits that arrests have been made and suspects arraigned.
He however notes that those arrested consisted of parents and girls. No circumciser is yet to to be arrested.
"The authorities are still pursuing the circumcisers. We have realised that there are some people who are trying to joke around with us. We have insisted that this thing must stop but there are some people who are not ready to do it," Mr Mwangi says.
In October, Kuria elders drawn from the four clans of Nyabasi, Bwirege, Bugumbe and Bukira signed an agreement to end the vice. This was witnessed by activists and government officials from the anti-FGM board and provincial administrations at a chief's camp in Kehancha town.
The board came out to meet with the elders in efforts to fulfill President Uhuru Kenyatta's decree of ending FGM by 2022.
On June, 2019, the president made a commitment to end FGM by 2022.
The elders want the government to support and provide alternatives to the women who depend on the practice for survival.
Recently, the elders were facilitated to go to the shrines, with elders from each clan receiving Sh500,000. They had said they wanted to visit the shrines to appease the gods so as to end the practice.
However, even after the facilitation, the community has gone ahead to conduct mass circumcision of young girls.
In order to avoid being arrested, some families have opted to have their girls 'cut' at night while others have taken to dressing their daughters as boys before sneaking them into neighbouring Tanzania for the 'cut'.
"They are doing it at night and at times camouflaging girls as boys and do it on the other side," Mwangi confirms.
According to a Kenyan Demographic and Health Survey report of 2014, the national prevalence of FGM stands at 21 per cent.
Additionally, a 2020 report by Unicef shows that more than four million girls and women have undergone FGM.
Last year, another report released by Unicef showed that about 700 girls in Kuria were circumcised as 250 were married off after undergoing the 'cut'.
Migori County Director for Gender and Equality Agnes Awinja says that the county government has put in place concerted efforts to end the vice.
She notes that authorities have usually tightened the rope against circumcisers and parents who forced their children into the practice.
"We have been sending our team to the community and we are trying our level best in sensitising and educating them on the dangers of FGM," Awinja says.
Meanwhile, a court has released five women accused of practicing FGM on a Sh500,000 bond after they denied the charges.
Esther Boke, Magrete Nyaboro, Robi Mukabe, Magrate Mwita and Anne Nchagua appeared before Kehancha Senior Resident Magistrate Ann Karimi.
They were charged with subjecting and allowing their daughters to undergo FGM despite the practice being outlawed. The suspects were arrested alongside their daughters at Mabera village.
The court said the 10 girls aged between 10 and 15 will be placed under protective custody at a reputable children's home for medical assistance and their protection.
"For you have pleaded not guilty, each one of you will be released on a bond of Sh500,000 or a surety of similar amount without cash bail. Each one of you is required to be ready for the case and you are free to hire a lawyer at your own cost," said the magistrate.
The case will be mentioned on January 14.