Kisumu residents to benefit from Sh8.8 billion water project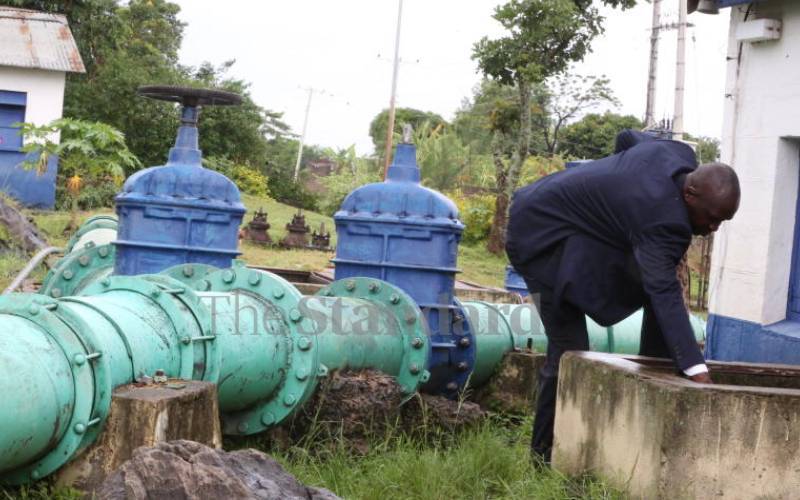 Kisumu will benefit from €70 million (Sh8.8 billion) project to expand the water supply. The programme to be implemented through Lake Victoria South Water Works Development Agency (LVSWWDA) is funded through French Development Agency, European Investment Bank, European Union and Kenya government.
The programme will help expand sanitation facilities to mitigate environmental pollution and increase water supply coverage from 67 per cent to 90 per cent.
Speaking in Kisumu during the public participation on the draft water resources and wastewater masterplans, LVSWWDA CEO George Odedeh said the programme would increase sewerage coverage from 16 per cent to 45 per cent, and reduce the lake's pollution. "We are looking at reducing high water loss/leakages from 45 per cent due to old pipeline networks to 25 per cent. We will also prepare masterplans for water resource and wastewater guide for future developments," he said.
The project plans to implement the construction of 107km water supply distribution system within the city, extending to satellite Maseno and Kiboswa.
It will also implement the construction of 70km of sewerage network and develop a new sewerage treatment works with a system at Otonglo to collect and treat 8,000m3 per day of wastewater.
"The programme will also implement water resources and waste management plan and provide technical assistance to KIWASCO to reduce non-revenue water from45 per cent to 20 per cent," he added.
According to the CEO, due to the rapid population growth and being the regional economic, commercial and transport hub of the western region, Kisumu faced challenges of coping with increased demand for improved water and sanitation services. He said the programme, already launched, would address emerging gaps in water and sanitation and achieve Millennium Development Goals for water and sanitation. He said they would increase access to water and sanitation in Manyatta, Obunga and Nyalenda.
The programme's water and wastewater network extensions rehabilitation and sewer connections works will start in March, while water network extension and improvement work on Dunga intake and water treatment plant, including Nyalenda, ponds start in August 2022.