Abimbo gold mine victim to be buried, one still trapped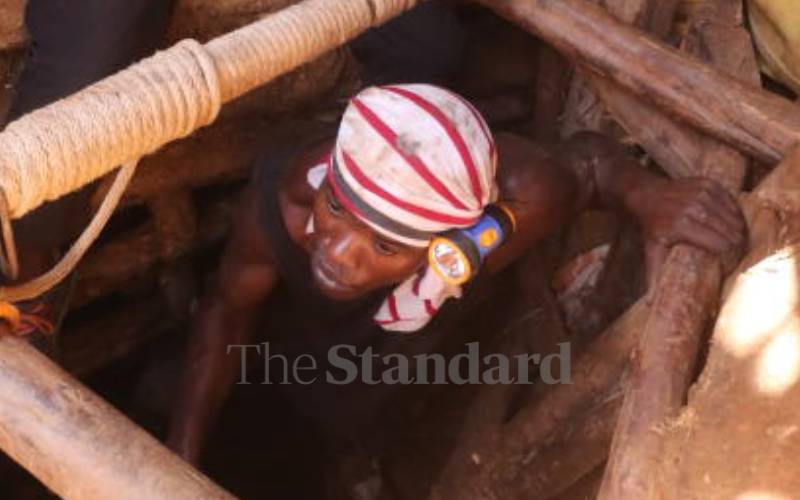 A miner who died after a mining shaft collapsed in Abimbo village, Siaya County, will be buried this weekend.
According to the family, plans to bury Enos On'gonga, whose body was recovered on December 5, are underway.
The search for one miner is still on.
On Monday, Siaya Governor Cornel Rasanga announced his administration would cater for hospital bills and burial expenses for the survivors and the deceased.
By yesterday, the family of Tom Okwach, who is still trapped in the goldmine, was still camping at the site, with hopes of rescuing him.
His mother, Joyce Ocholla, said the government had neglected the family as the search entered the thirteenth day.
Bracing the scorching sun during the day and cold at night, Ocholla told The Standard that it had been a torturous journey.
"We're not going to leave here until my son is found dead or alive," she said.
For the last four days, the compressor that was pumping oxygen to the victims underground is said to have gone silent, with the number of rescuers diminishing by the day.
The site that was full of government vehicles, villagers and government officials is now left with a few police officers and villagers, who are racing against time to rescue the miner.
A group of ten women, who have volunteered to cook for the victims, say the wait has been long.
Caroline Aoko, who has been at the site since the incident happened, said they have been working day and night.
"We were working at the mines, but since the incident happened more than one week ago, we've been rendered jobless," said Aoko.
Aoko, who earned at least Sh200 per day before the incident, said she could hardly make Sh50 per day.
"This has been our livelihood, and without any activity going on here, we've not been able to get food for our families," she added.
For Triza Awuor, a resident, the government should not close the mines.
"Whenever an incident like this occurs, the government usually closes the mines. The mines are our source of livelihoods," she said.
Yesterday, Bondo MP Gideon Ochanda, who accused the national government of minimal response towards the disaster, said the family should halt any burial plans for On'gonga.
"It will only be a sign of unity and abiding by the traditions to have the burial only after the last victim has been rescued," said Ochanda.
Okwach's mother, who described his son as honest, disciplined and loving, appealed for help to get his son.
His wife, Jacklyn Okwach, said she hoped to see her husband again.