Trapped miner's family still holding onto hope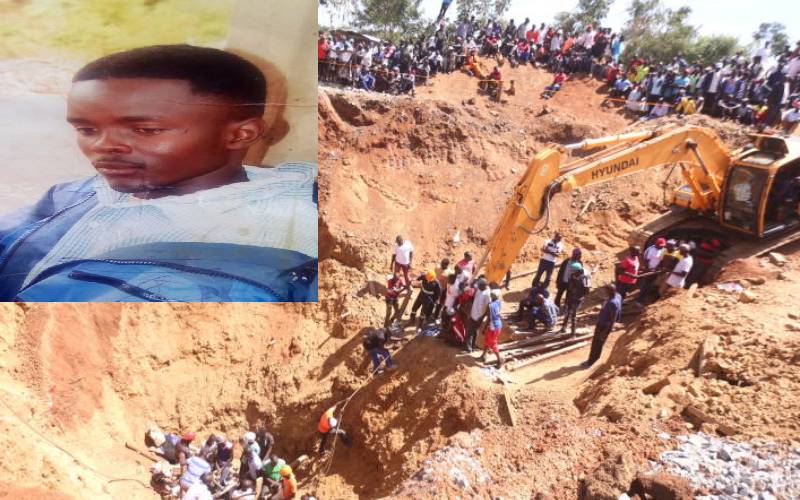 For 12 days, Joyce Ocholla has been keeping vigil at the collapsed mine - braving the scorching sun by day and the chilly weather by night - praying that her son who is trapped in the mine is found.
The mother of seven, who has described her son Tom Okwach as honest, God-fearing and loving, has resigned to fate as the rescue operation for one miner who is still trapped in the Abimbo mine goes on.
Six people were rescued alive while one was found dead.
Yesterday, Ocholla, who is prepared for any outcome, told The Standard that this has been the worst moment of her life.
"I lost my first-born son some years back and Okwach was my only hope. It's unfortunate that information about his whereabouts remains scanty," she said.
As the search continues, Ocholla recalls the events of December 2.
"Okwach was to take me to the hospital at around 9am. I was ready at the agreed time, only for him to call me later informing me that he would pick me at around 11am," recalls the 54-year-old mother.
Ocholla recalls how the long wait for Okwach's call only resulted in the sad news that he was among the eight who were trapped when the gold mine collapsed.
She continues: "It was like a dream for me. I prayed to God for courage."
With the larger crowd, presence of government officials and constant updates that were previously witnessed diminishing by the day, Ocholla says they have been left at the mercy of a few well-wishers.
Even though the rescuers are still hopeful that they will find Okwach alive, his mother does not feel very optimistic.
"Initially, we were told that my son was together with the three miners who were rescued last week. After the rescue, it seems the rescuers have left the site," she claimed, adding that all is not well for the family.
Okwach, a former pupil at Daga Moyo Primary school in Rarieda sub-county, ventured into boda boda after dropping out of school.
Attempts by Ocholla to have him repeat Class Eight were vehemently opposed.
According to his mother, meagre earning from boda boda trade might have pushed him into gold mining.
"He hadn't worked at the mine for a long time before the tragedy struck. It's sad but he was out to put food on the table for his family," said the mother.
The distraught woman, who has faulted the government for neglecting them, vowed not to leave the site until she sees her son.
"I won't leave here until I see my son. Even if he's dead, am ready to wait for his body to go and bury at home," she said.
Overwhelmed by pain, Okwach's wife Jacklyn, says her prayer is to see her husband once again.
The mother of two told The Standard that they have been married for six years.