Muhoroni mob spears three cops after mistaking them for thugs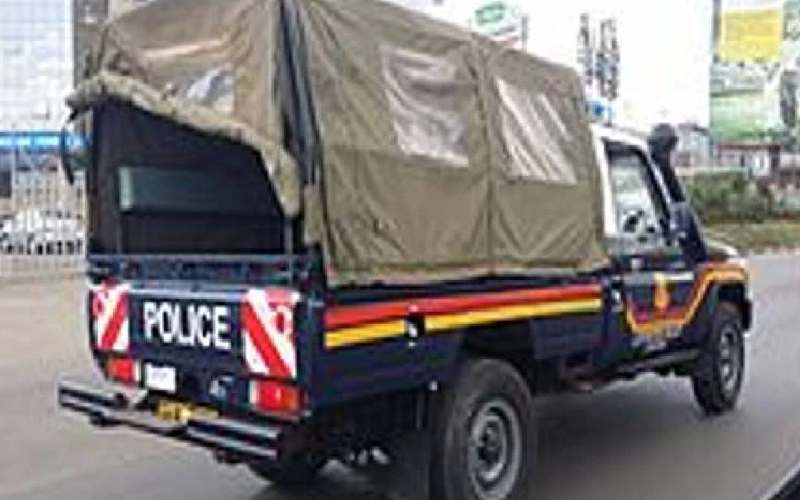 One person has been shot dead while three police officers suffered spear wounds following an altercation with a mob that had mistaken them for robbers.
The incident at Sidho in Muhoroni, Kisumu County has left four other people including a woman nursing gunshot wounds.
Another police officer was speared on the neck by the irate mob with two vehicles belonging to a tobacco company also being torched and vandalized.
Trouble started at 11 am today when three police officers who were escorting officials from a tobacco company raided a shop at Sidho East Sub Location to flush out smuggled tobacco meant for export that was being sold locally.
Hell broke loose moments after the officers from Chemelil police station alongside the officials of the company entered the shop and mishandled the wife of the suspect they believed was selling the contraband goods.
According to witnesses, the wife of the suspect raised an alarm claiming their shop had been raided by armed robbers.
Within minutes, villagers thronged the shop while baying for the blood of the thugs not knowing they were police officers.
"We knew they were thieves and that is why everyone turned up to deal with them," said Felix Otieno, a witness.
The officers on sensing danger and fearing for their lives opted to lock themselves inside the shop but the mob managed to spear them through a window.
Although they immediately called for backup, the residents engaged them in running battles before they fired several tear gas canisters and several live rounds to disperse the mob and rescue their colleagues.
When the gun fell silent, several people including police officers were nursing serious injuries.
The police however denied that they shot at the mob but admitted that several rounds of ammunition were used in the exercise.
Muhoroni OCPD David Muniu confirmed the incident and said tension is still high in the area following the incident.
Muniu said three of his officers who were injured during the attack have been rushed to Nandi Hills Sub County Hospital for treatment. He however said that the officers were in fair condition.
"In the process of rescuing the officers, several rounds of ammunition and tear gas canister were expended. The scene is still hostile," said the officer.
Area assistant chief Jacob Ongadi told the Standard that one of the victims of the gunshots passed on while three others have been taken to the hospital for treatment.