Abimbo gold mine rescuers speak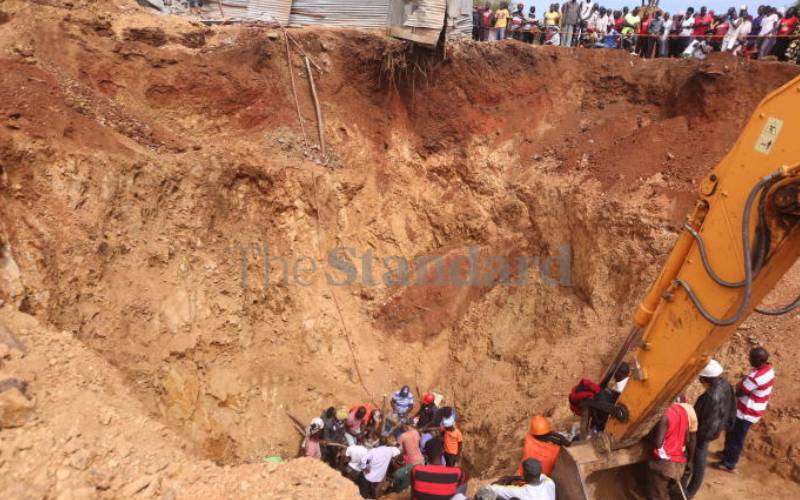 For seven days, a group of youth worked tirelessly, braving the cold at night and the scorching sun during the daytime to rescue eight miners who had been trapped in a collapsed mine in Abimbo, Bondo sub-County.
Armed with spades, buckets, and hammers, the rescuers raced against time as families and relatives of the victims camped at the site since last Thursday.
However, when three miners were rescued alive yesterday morning, they were determined to retrieve the remaining one alive.
Emerging from the shaft together with three other rescuers, Edwin Ogolo couldn't hide his joy for a job well done.
"The first person that we retrieved was already dead but this did not kill our hope of searching for the remaining seven," said Ogolo.
Ogilo, a self-trained rescuer, said the shaft is dark and has water beneath.
He added that it was sad to see their colleagues go for all those days without food and staying in the cold.
Following the successful rescue yesterday at dawn, Ogilo said they would not celebrate yet since one of the miners is still trapped inside the mine.
Another rescuer, Felix Ratemo, who hails from Migori County but has been operating in Abimbo, termed the incident like any other accident.
He said their greatest setback was reaching underground because the entrance had been blocked.
"We were only communicating with the victims through the pipe but couldn't locate the exact place they were in," said Ratemo.
Ratemo described the rescue operation as a miracle given all the odds they had to deal with.
"It was a joy for us to see our colleagues alive," he said.
The families have been camping at the mining site. Once every 10 minutes, the rescuers channelled oxygen to the victims via a pipe they have been using to communicate.
The eight miners were trapped last Thursday when the gold mine caved in.