White elephant? Sh1 billion road started 5 years ago stalls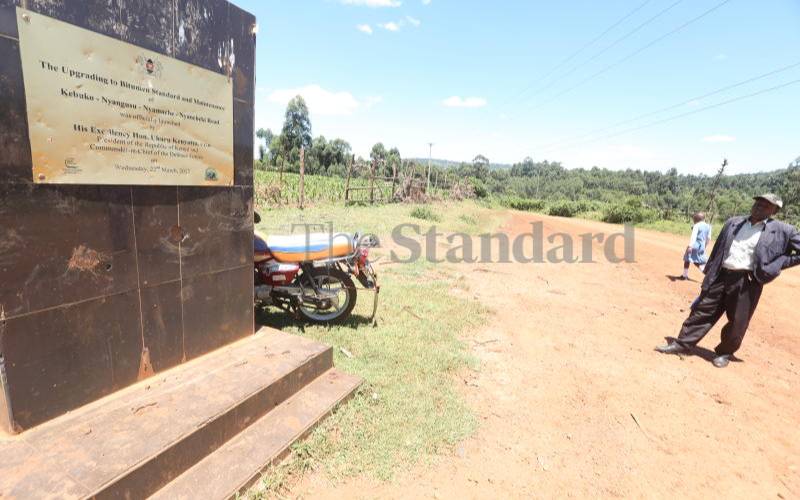 Residents of Bobasi, Kisii have protested the delayed completion of a 16-kilometre road launched by President Uhuru Kenyatta in 2016.
They argue that the road has become a nightmare for locals, especially students and patients who are sometimes forced to use it late.
"It has been nearly five years since the President visited this area and launched the road. We want the government to tell us where the money that had been set aside for the project went. We have heard of the commissioning of many other roads in Kisii, worth billions of shillings, yet this one has stalled," Mary Kemunto, a resident, said.
The road was expected add to the tarmacked network, to improve safety and support economic growth that would lead to improved living standards of the locals.
Joseph Asati, another resident, said other projects commissioned in other constituencies almost at the same time were nearly completed.
In June last year, the contractor resumed construction works. Around the same time, area MP Innocent Obiri said he was hopeful the road would be ready for use by June 2021.
According to the Kenya Rural Roads Authority, the contract was awarded on February 24, 2017, at a cost of Sh1.1 billion, and was set to take 24 months to completion.
By August last year, the government had paid Sh104.6 million to the contractor.
Last week, while commissioning more roads in Kisii and Nyamira, the Transport PS Paul Maringa called for speedy completion of road projects countrywide.
Mr Maringa urged contractors to ensure all projects were completed within the stipulated period.
The PS spoke in Nyaribari Chache, in Kisii when he flagged off the tarmacking of other roads valued at Sh1.7 billion.
The PS warned contractors against doing shoddy work.
"We have given directives that the projects be undertaken to the highest standards possible and every coin must be spent as had been intended."
Chris Obure, the Chief Administrative Secretary in the Ministry of Roads and Infrastructure, said the government would ensure the project was completed.
"We don't want to have stalled projects all over. The money has been allocated and the tender given to a qualified contractor," he said.
Earlier, the PS also commissioned the construction of Omonyenya-Saiga-Ngiya-Kineni road and Simbauti-Chencha in Nyamira's Borabu Constituency.
Area MP Ben Momanyi said the constituency was the hub of agriculture within Nyamira County, hence the need to have better roads.
"Improved roads make movement easier. The Kerra roads are regularly maintained based on their conditions."