Table banking helps fish traders avoid shylocks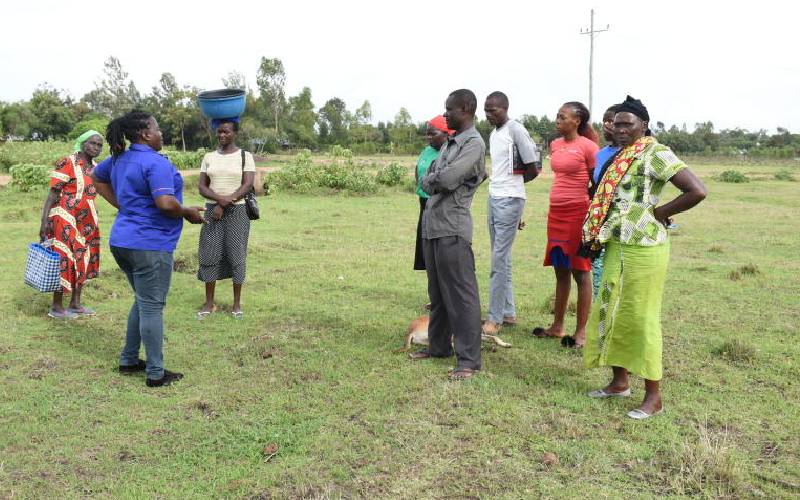 When Laureen Atieno lost her husband five years ago, a cloud of uncertainty engulfed her.
With no stable income, a place to call home, and a bad experience with shylocks, she was at the mercy of fellow fish traders at Miti Mbili Beach, Rachuonyo North sub-County.
"My husband had no house in the village, and his burial site became a problem," said Atieno.
Her colleagues at the beach contributed money to build her a house, and also catered for the funeral expenses.
Her colleagues were members of the Miti Mbili Nam Oyiech Population Self Help Group.
The group opened doors for traders and fishermen to contribute money through merry-go-round.
"This project was for saving money which was lent to members to boost their businesses. We also encouraged them to invest in other income-generating activities," said Keziah Akinyi, the chair of the group.
Akinyi said that the merry-go-round has helped members avoid loans from shylocks who charge high-interest rates.
"Some traders have lost their equipment to the shylocks when they fail to repay the loans.
We lend members between Sh10,000 and Sh20,000 at affordable interest rates," said Akinyi.
About 10 kilometres away at Kobiero Beach, the fish traders from the region also started a similar initiative.
Just like the case with Miti Mbili, the Kobiero Fish Traders Group was formed when widowed fish traders came together to support one of their own whose business had collapsed.
"We could not just sit back and watch her beg at the beach. We contributed some money and helped her," said the group's chair Everline Anyango.
The two groups have modernised the merry-go-rounds to structured table banking entities with tough regulations, which have seen their money grow.
"This year alone, we have earned an interest of over Sh60,000. At the end of the year, we give members dividends," said group secretary Lilian Adhiambo.
With dwindling fish stock in Lake Victoria, the traders are embracing table banking to raise money, keep their businesses afloat and engage in other businesses.
In Bondo town, Siaya County, Hellen Auma who has been selling fish at Nyenye Misori beach, now sells second-hand clothes too.
"At some point, there is no fish, and with no alternative source of income, I cannot feed my four children," said Auma, who is a member of Rid Pachi Women Group.
The 27-member group transformed their merry-go-round into a table banking project. They loan members money which is paid back with interest.
Nyi Kandito Kanam Women Group in Karachuonyo, which has 30 members, is also helping the fish traders.
The groups are part of the 15 which have benefitted from Economic Justice Programme funding by the Open Society Foundation.
The programme, implemented through Kenya Female Advisory Organisation (KEFEADO) was at empowering the vulnerable groups along the Lake basin.
Each of the groups received between Sh1.5 million and Sh2 million to modernise and boost their table banking projects, as well as diversify their businesses.
Easter Achieng, the executive director of KEFEADO, said most of the 'merry-go-round programmes were not beneficial because they were not making any profits.
"Since those programmes were transformed into table banking, most of the groups have been thriving and their members do not rely on shylocks," she said.