From househelp to cereal vendor: Siaya woman beats all odds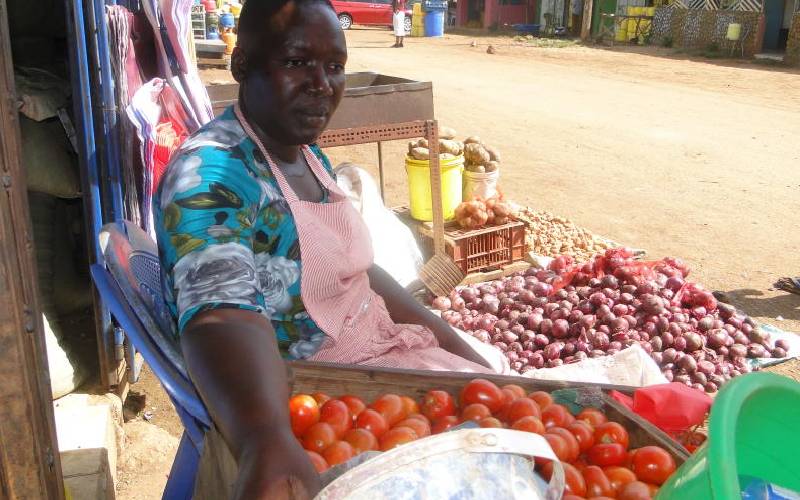 Life is like a big wheel. One moment you are on your feet, and the next moment, you have hit rock bottom. How long you stay on it depends not only on how long you can handle it but also who is willing to ride with you.
Very few individuals can paddle into the waves of life, and in some cases, it takes a helping hand to stay afloat, a concept Scholastica Achola fully understands.
Born in Mwer, Alego-Usonga Sub-county, four decades ago, the mother of three left her ancestral home to Usenge town in search of a job in 2003.
From Sh300 pocket money she got from her father, Achola now earns at least Sh100,000 a month.
"It was not easy getting a job as a maid, but through perseverance and determination, I got a job and decided to save part of the little money I was getting," she recalls.
It is after accumulating substantial income as a house help that Achola later ventured into selling cereals, vegetables and real estate businesses.
On a good day, she would take home at least Sh2,000. This enabled her to rent a house, which she used to pay a monthly rent of Sh250.
Before venturing into the cereals and vegetable business, Achola at one time tried her hand in the fish business.
"I incurred losses. I decided to abandon it for other ventures," she said.
Married at the age of 17, Achola, who has turned 41, says her breakthrough came after more than five years of hustling as a house help, vegetable vendor and fishmonger.
"I kept on praying and working extra hard to ensure that I got into the business that has for a long time been perceived to be for the men," she said.
From the little savings, she bought a piece of land, where she built her home.
So far, she has about five acres of land, where she plans to do more development projects.
Achola attributes a combination of factors to the success of her business. They include good planning and aggressive marketing strategies.
"Trying to invest without a plan is like trying to travel without a road map. Sure, you might make it, but you will probably make a lot of missteps along the way, and it will probably take a lot longer than you would like," she says.
With the growing population in Usenge town, Achola says she saw an opportunity in the rising demand for housing, both for commercial and residential purposes.
She built her own houses that have seen her collect some money monthly.
Currently, a two-bedroom house in the town goes for between Sh3,000 and Sh4,500 exclusive of water and electricity bills.
Those looking for houses to do business always part with between Sh3,000 and Sh5,000, depending on the size.
Achola also says she started a guest house in one of her buildings within Usenge town due to the demand for recreational facilities that have seen the prices go up, with most of the rooms charging at least Sh500 per night.
Her business continues to face stiff competition from other investors in the real estate market.
"It has not been easy because sometimes those selling land would not give you the genuine documents of ownership," she says.
Achola says women venturing into the real estate business have to go through the tedious job of searching and purchasing land.