Women working at Uhanya beach from dawn to dusk only to take home Sh200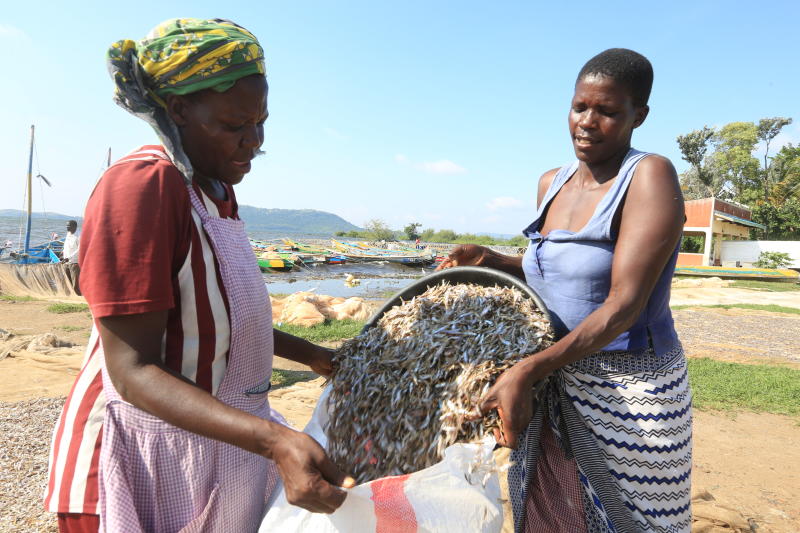 At exactly 5.30 am, Millicent Auma is already at Uhanya beach.
The fishing boats with omena, usually get to the shore just before sunrise.
With her two-year-old daughter strapped on her back, Auma braves the extreme weather conditions daily to earn a living.
The 30-year-old mother of two gets to her workplace exhausted. However, she cannot afford the luxury of resting even for a day due to the many responsibilities staring at her.
Auma and her female colleagues locally referred to as onyinjo, have to work for about seven to 10 hours to make enough money for their daily sustenance.
Onyinjo is the hamerkop bird, which is mostly active during the day. They can be somewhat active around dusk but are not nocturnal.
For Rose Akoth, who has been working at Usenge beach for five years, the income is meagre. She earns between Sh150 and Sh250, depending on the day's catch.
"The job is back-breaking, but we have no option," says Akoth.
The mother of four says her day starts at dawn and ends at dusk, with little time to attend to other family chores.
Her work involves offloading the fish from the boats, washing and sun-drying – this goes up to around 6 pm every day.
Awino and Akoth are not the only women who rely on Lake Victoria for their families livelihood. Every morning, hundreds of women flock to the shore of the lake to offload fish from the fishing boats.
For a long time, women have occupied a central place in Kenya's fishing sector. However, cultural, social and economic factors account for the marginalization of women.
"The little income we get cannot enable us to save to start our businesses. Given that most of us are widowed and landless, omena business is the easiest to start since it requires little capital," said Akoth.
Akoth says the Covid-19 pandemic led to the closure of some markets.
According to John Ochieng, a Beach Management Unit (BMU) official, women dominate the onshore post-harvest sector and are the main actors for small-scale processing.
"Transport, marketing and sale are shared by men and women, with women accounting for the larger share," he said.
Mary Otieno, another fish trader in Misori, Rarieda Sub-county, says there is high competition amongst buyers and middlemen.
"Single women and widows are vulnerable in this trade because of the 'sex for fish' practice," says Otieno.