Voter registration in Nyanza going on at snail's pace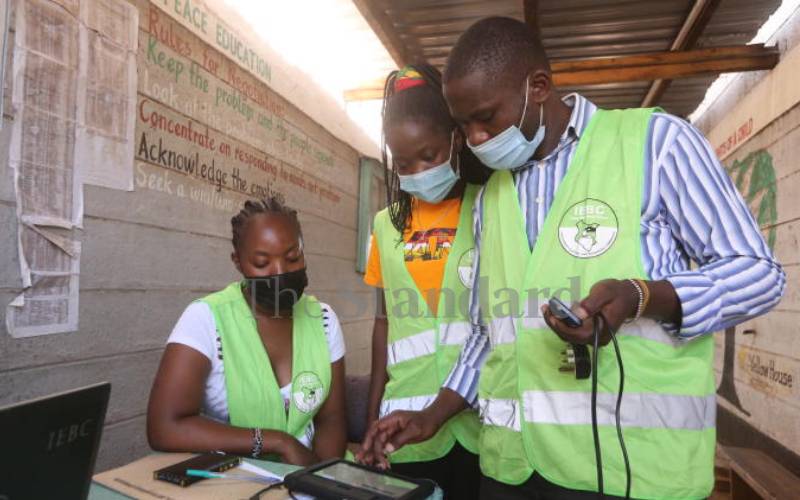 Political leaders in Nyanza have a tough task of convincing residents to register as voters.
The slow pace of the exercise elicits fears of voter apathy, as witnessed in past polls.
Some residents have faulted leaders for failing to encourage people to register.
Since the start of the exercise, elected leaders from the region have not been participating in voter mobilisation, and only aspirants who want to enter politics have been encouraging people to register.
The development is akin to the 2017 mass registration exercise that was slow at the beginning and picked up in the last week when politicians introduced their campaign machinery to mobilise people to register.
And now for the fourth day since the exercise was launched, registration stations put up by the Independent Electoral and Boundaries Commission (IEBC) remained deserted. IEBC officials claim that they have been receiving less than 10 new applicants daily.
They said that there is a need for an intense voter mobilisation drive.
According to some leaders, IEBC officials and residents, getting more people to register require concerted efforts from all stakeholders.
A senior IEBC official overseeing the process in one of the constituencies in the region faulted political leaders for doing little to encourage people to register.
"Political leaders have shown little interest in helping us.
"We understand the ban on political gatherings makes it difficult for them to mobilise people, but there is a lot they can do," said the official.
The official claimed that despite leaders wielding power on social media, only a handful have taken the campaigns there.
Although the voter registration exercise is IEBC's job, it relies on the politicians to help mobilise people to register.
Yesterday, IEBC officials continued with their mobilisation drives in Kisumu and its environs in an attempt to reverse the poor turnout.
The commission has changed its tactics and is now targeting institutions.
Patrick Odame, an IEBC manager in charge of Kisumu, said they expect the process to pick up in the coming days.
"Politicians have their engagements, but we hope they will also help us with convincing people to register," said Odame.
In the Kisumu Central Constituency, IEBC deployed sound trucks to rally locals to turn up for the exercise.
As the process continues, attention has shifted to political leaders who for days have been claiming that they are keen on strengthening the vote basket of the Orange Democratic Movement (ODM) leader Raila Odinga through social media platforms and in funerals.
Raila's troops are keen on using the voter mobilisation drives to be in good books with the party leadership and strengthen Raila's chances of winning the presidency.
In Kisumu, several aspirants rallied locals to turn out and register as voters.
With the ban on political gatherings taking a toll on aspirants, some of Raila's soldiers have resorted to door-to-door voter mobilisation campaigns.
Governor Anyang' Nyong'o's foot soldiers also rallied residents to register while aspirants Deo Owala and Joshua Oron, both eyeing MP seats, engaged in door-to-door campaigns to engage new voters.
In Siaya, Alego MP Samuel Atandi met ODM party delegates from Siaya Township Ward and chiefs from the 10 locations of Alego Usonga to fine-tune the strategies needed for the success of the exercise.
"In our quest for maximum turnout in the ongoing mass voter registration across Alego Usonga Constituency, we continue to engage various stakeholders instrumental in the mobilisation process," said Atandi.
In the Gusii region, Dagoretti North MP Simba Arati and Borabu MP Ben Momanyi have hit the ground running for their respective bids for Kisii and Nyamira governor seats.
Several politicians who used the BBI campaigns to build momentum for their political goals have shifted their focus on an intense voter mobilisation drive and developing alliances.
Night and weekend meetings in hotels and homes of politicians have become the norm.
The leaders are selling Raila's campaign agenda in funerals while rallying potential voters to register.
Some politicians are also openly campaigning for political seats even as they prioritise mobilisation of voters to give Raila a boost Raila's chances of winning the presidency.