Widows beat culture to get adequate food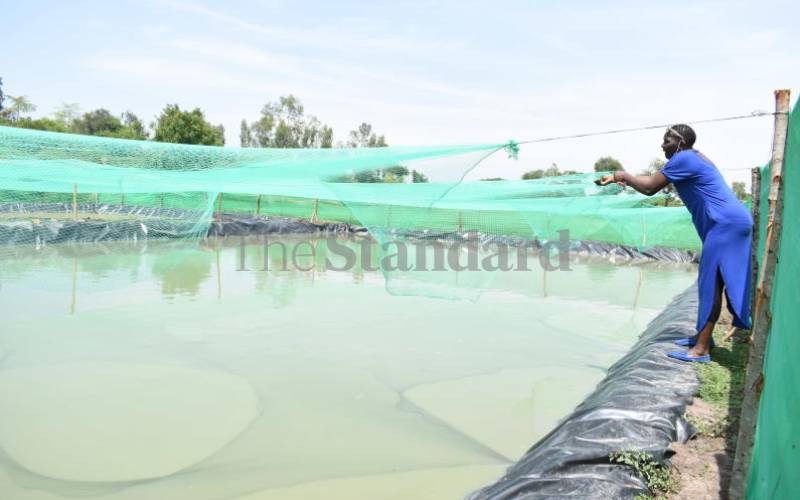 In 2015, Ester Adhiambo lost her husband of 16 years. She was left to care for their three children.
With no formal job, Adhiambo, a resident of Pala in Karachuonyo, Homa Bay County, had to strategise to provide the basic needs for the children.
"Farming is the most common economic activity in this area, and I had to find a way of doing sustainable agriculture," she said.
However, a Luo culture known as golo Kodhi posed a threat in her endeavour to venture into agriculture.
The culture requires a couple to have sex ahead of land preparation, planting and harvesting.
It has to be done hierarchically in a homestead in such a way that the head of the homestead does it first, followed by the children, from the eldest to the youngest.
Adhiambo, who was married to the third-born in the homestead, had to wait for her parents-in-law and the two elder brothers-in-law before she could plant.
But then there lay another challenge, she no longer had a husband and was never ready to be inherited.
This means she had no way around golo kodhi, lest she goes against the culture by engaging in agriculture without the laid down cultural demands.
"You could not push someone to clear their part of the cultural demands to free you. I had to think twice," she said.
Adhiambo realised that a number of her peers in her Stepping Stone HIV Women's Groups had similar experiences and were yearning for a lasting solution.
They had formed the group in 2003 to fight the stigmatisation they faced after they declared their HIV status. "Nutrition was a major component of HIV/Aids management; we had to act fast to produce our food," said Adhiambo.
The women then began a programme that saw them lease land in neighbouring villages and use casual labour to till and plant, as this did not require much of the cultural demands. They were not directly engaging in the production.
Vulnerable women
In 2019, Adhiambo and the team got funding through Economic Justice Programme, which aimed at empowering vulnerable women around Lake Victoria.
The project, funded by the Open Society Foundation, was implemented by Kenya Female Advisory Organisation (KEFEADO), and benefited 15 groups in Siaya and Homa Bay counties.
Mary Atieno, a member of Tumaini Widows Group, one of the network groups of Stepping Stone HIV Aids Women Group, was widowed in 1999, barely two months into the marriage. "It was a shock, and I did not want to move out of my husband's place," she said.
And just like Adhiambo, she was a housewife and had to depend on peasantry agriculture to fend for herself.
The cloud of cultural exploitation engulfed her, and she could not utilise her vast parcel for production outside the cultural norms.
"One day I bumped into the women who were talking about coming together in groups to empower themselves. I thought I had to be part of this," she said.
Philister Achieng', 35, is also a member of the Stepping Stone Group, and was influenced by Adhiambo to join the group to seek economic freedom.
"Adhiambo approached me and we had a chat. I discovered we had many things in common. The idea of joining the group was my only option," said Achieng.
Today, the 20-member group engages in the leasing of land and ploughing. The food produced is either for domestic and commercial purposes.
Share the harvest
They identify land, lease it, work on it as a team and share the harvest.
Through the Economic Justice Programme, the group has set up two fish ponds in the neighbouring Kasembe village in East Kagan, Rangwe Constituency, where they are diversifying their trade.
"Through this method, we can stay away from the cultural demands that not only risk our lives but also make us dependent," said Adhiambo, adding that through the initiative, she can pay school fees for her two children in the university and secondary school.
Easter Achieng', the Executive Director of KEFEADO, noted that the culture of golo kodhi still exists among Luos.
"The Economic Justice Programme did not envision cultural practice, but only focused on empowering disadvantaged women. However, some people like Adhiambo have come out to disclose how this culture catapulted them to such innovative economic models," said Achieng'. She said there was need for the government to pump money into such initiatives to turn around the lives of many disadvantaged families.
"The donor funding is fast shrinking, and the government needs to take up such ideas and put money for their sustainability," she said.