Key hospitals in Migori to benefit from Equity's PPEs for 18 months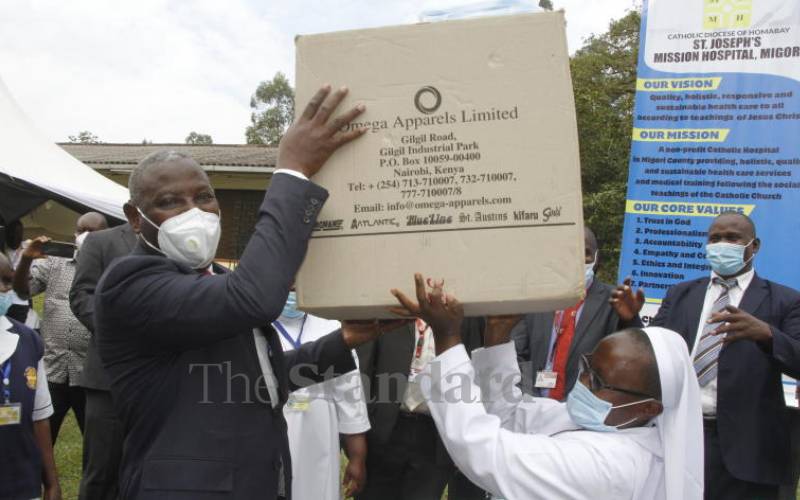 Three key hospitals in Migori County will benefit from Personal Protective Equipment (PPEs) from Equity Bank for the next 18 months.
Migori County Referral Hospital, St Joseph Ombo Mission Hospital and St Camillus Hospital will get the PPEs to help curb the spread of Covid-19 among health workers in the facilities.
St Joseph Ombo and St Camillus were the first to get the items yesterday.
Equity Bank CEO Dr James Mwangi said the bank had raised Sh1.7 billion dedicated to the fight of the pandemic.
Mwangi who spoke at St Joseph Ombo said Sh1.1 billion had been dedicated to protecting nurses and doctors from the disease.
The Equity Bank boss further noted the institution has selected 60 faith-based hospitals across the country which they were supporting with PPEs.
"That is the responsibility that we will discharge. We should be able to defeat Covid-19 within 18 months," Mwangi said.
He added: "Beyond protecting nurses and doctors, we have donated Sh89 million to support the medics welfare."
Additionally, the Equity CEO stated that the bank had joined the country in the fight against the pandemic to help rebuild the country's economy.
Mwangi also called on Kenyans to take care of the environment "as it would be better for people to heal in a healthy surrounding."
Bishop Michael Odiwa who spoke at St Joseph Ombo, noted that PPEs were currently the answer to Covid-19.
"We pray that our people co-operate in the observance of Covid-19 guidelines as they are currently the answer to this disease," Bishop Odiwa said.
Lands Executive Elijah Odhiambo who represented Governor Okoth Obado noted that the disease had stretched the hospitals' capacity in the county to the limit.
"The past year has not been easy to the residents of this county, even as we try to cope with the new normal of not greeting and hugging. This is another great challenge as livelihoods have really been devastated," Odhiambo said.
Odhiambo noted that the county which currently has a positivity rate of 4.2 per cent had lost 69 individuals to Covid-19.
Migori has recorded around 1, 500 Covid-19 cases since the onset of the pandemic.
Odhiambo urged residents to keep maintaining their guards and follow protocols placed to fight the spread of the disease.
"I urge all to ensure strict adherence. Any laxity is a potential risk to all of us. We must all remember that we are the first line in the fight against the pandemic and we must ensure that we take care of our health workers," he stated.
The executive said the two mission hospitals in the county had been of great importance as they helped when the county's hospitals were overstretched.