Pirates take over Lake Victoria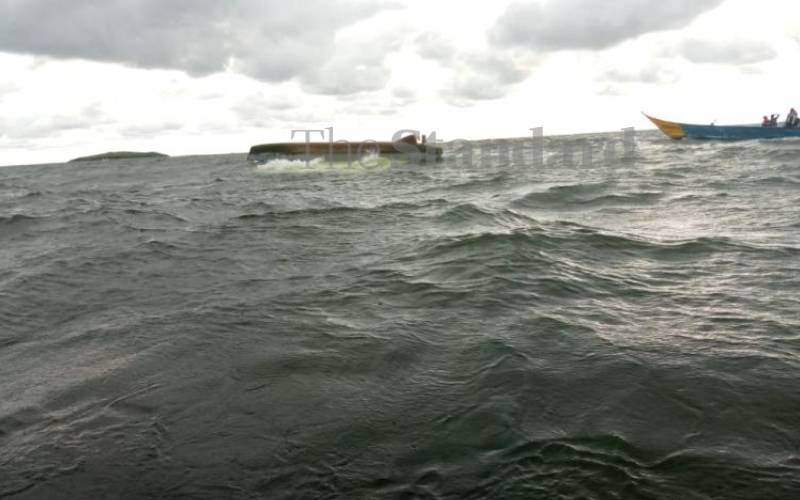 The long-held view of Lake Victoria as a vast productive resource is changing rapidly and is instead being seen as a curse, thanks to runaway crime fanned by shadowy cartels.
Kenyan fishermen have been reduced to hostages by criminal networks in the lake that not only steal, but kill.
The natural treasure shared by Siaya, Migori, Kisumu, Homa Bay and Busia counties today enriches only a few. If one is lucky to be spared a daytime attack, the lake guarantees no safety at night, since having fish is enough to attract a gang to your boat. And rarely will the gang end their mission without inflicting physical injuries.
Hundreds of fishermen have lost outboard boat engines and fishing nets worth millions of shillings to dreaded pirates who terrorise them.
Despite watching colleagues maimed or themselves suffering losses during attacks, the victims are too scared to report or openly speak about the attacks and the perpetrators. This is because reporting the attackers could attract fatal consequences. This has seen fishermen abandon the trade and seek fresh ventures.
Until five years ago, fishermen relied on the Rapid Border Patrol Unit that was deployed to address cross-border crimes. According to the then officer commanding the unit, Benard Ongoro, "This was my creation and invention knowing the plight of our fishermen."
Fishermen who were interviewed said the Ongoro-led team almost managed to eradicate this cartel, but some senior security officers and businessmen who had personal interests advocated for the transfer of the unit.
"We were informed that a top security officer deliberately frustrated efforts to streamline security in the lake," claimed one fisherman, adding that with the unit's departure, the cartels have become bolder.
Despite being well-known, the pirates even have the audacity to rob their own employees and suppliers, with the crimes appearing normal to most of the fishermen and are hardly reported beyond the beaches' boundaries.
A four-month investigation by The Standard established that the shameless collusion of a chain of people who are motivated by greed and the criminal underworld is increasingly fuelling the theft of boat engines in Lake Victoria.
The theft ring has been stealing an average of five engines per month from the county's major beaches as well as fishing nets and smuggling them to Nakuru, Turkana and Tanzania. Multiple sources have described the attacks and theft in the lake as a huge money-minting industry.
In the latest incident, fishermen from Honge beach in West Yimbo were attacked and two engines worth Sh500,000 stolen from them. The matter was reported at Usenge Police Station. According to the victims, they were on a fishing expedition when three criminal gangs attacked them.
Henry Oyamo, a fisherman, says the attackers were in police uniform and were armed with guns and machetes.
"The fishermen were stripped before the attackers sped off towards Busia County," said Oyamo.
Four months ago, the same fate befell John Oulo, a fisherman in Kuoyo beach, Mageta Island, after his engine worth Sh250,000 was stolen and one of his employees killed. Others were left with serious injuries.
"I recovered my boat in Uganda but the engine was nowhere to be found. We are really suffering in the hands of these criminals," said Oulo.
Last August, six fishermen were attacked and seriously wounded near Sifu Island by the suspected pirates. Two engines worth Sh460,000 were stolen.
According to a Beach Management Unit (BMU) patrol officer who spoke on condition of anonymity, they have only been registering fishermen in their respective beaches but not their fishing equipment.
"The details of engines and boats always remain with the owner," the officer said. Over the last two years, reports from BMU indicate that at least 20 outboard engines have been stolen in Bondo Sub-county alone.
During the day, the criminals hang around beaches as others masquerade as boda boda riders, where they profile potential victims. When night falls, they take control of the lake.