No peace for relatives who bury loved ones in 'borrowed' graves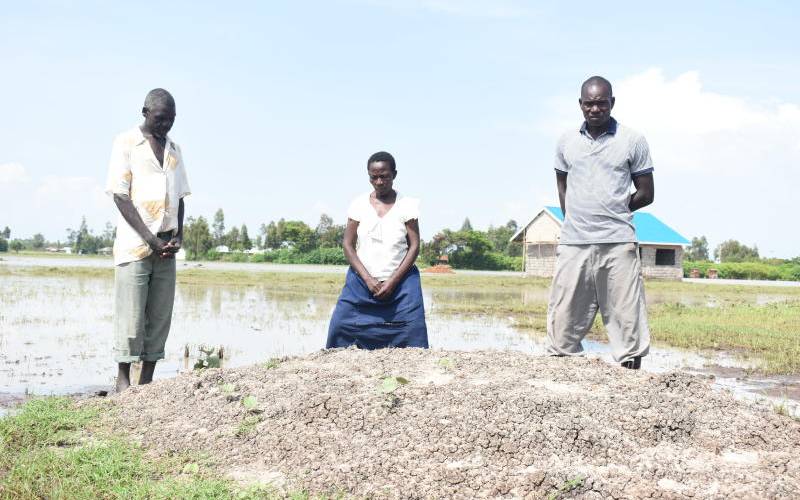 A few days before she died, Wilfrida Agiro, 88, had summoned her daughters-in-law, Lillian Adhiambo and Dorothy Akinyi, to discuss her final resting place.
"She told us she was tired of living in a borrowed house, and that she desired to be taken back to her home so that she could die and be buried in her compound," said Adhiambo, a resident of Nyando in Kisumu County.
The displaced family had been living in a house offered by a well-wisher in Karagwel village, about two kilometres from their home in Konyango-Adiel in Ogenya, which had been marooned by floods.
Agiro had slipped and fallen from her chair, dislocating her pelvis. This caused the grandmother a lot of pain. She died in October last year, before the family could return home.
"Our home was still marooned and we could not take her there. We waited for six weeks for the situation to get better but it did not, yet the mortuary bill kept rising," said Akinyi.
The women then decided to 'borrow' a burial site in Karagwel where they buried Agiro.
Adhiambo, 35, and a mother of six, and Akinyi, 45, a mother of five, continue to live next to their mother-in-law's grave.
But they are unhappy that they could not give the old woman the kind of send-off that she wanted.
The burial arrangement they opted for, however, has become common in Nyando following persistent flooding that started in November 2019.
With Lake Victoria swelling and the rising waters flowing almost one kilometre inland, thousands of residents have left their flooded villages for not-so-temporary camps and market centres.
The residents claim that in the last two years, at least 50 bodies have been interred on borrowed land in Kanyagwal, Kakola, Kawino South, Kawino North, Bwanda and Kochogo, which are on the lakeshore.
No cemeteries
"We do not have cemeteries here. Also in our culture, people do not wish to bury their dead away from them, so they choose to borrow burial sites close to where they live," said Kephers Odhiambo, a village elder in Kanyagwal.
Just like Adhiambo and Akinyi, Samwel Otieno and his wife, Beatrice Achieng, had to bury their son, Moses Ochieng, in a borrowed site.
The couple, together with their five children, were forced out of their Ogenya home by floods in October 2019.
They first sought refuge at Ogenya Primary School before moving in January last year when schools reopened.
The family then lived for a few months at Ogenya Health Centre before the facility was also submerged.
Their next home was a church, and finally a temporary camp at Gogni.
Otieno, 66, and Achieng, 43, lost their 20-year-old son in October last year. The son was a fisherman.
"His death was not clear because he disappeared for five days. We found the body in a mortuary in Ahero two months later," said Otieno.
With their home still under water, they had to seek an alternative burial site.
"We asked for space at the camp but the land owner declined. Someone offered to give us some space, and we buried him," said Otieno.
They built a temporary structure to live in near the grave, but they will have to vacate because the owner only offered land for a grave.
Otieno says it is unlikely he will buy the land because he cannot afford.
Jared Oginga and his wife, Mary, left Kanyangi village in October last year due to the floods.
In February this year, they lost their 30-year-old son, Bernard Mzee. By then, they were housed by a well-wisher.
"The owner of this house had died, and it was vacant. The relatives offered us the house for the time being.
"When my son died, I asked them to allow me bury him here," Jared said.
But with two families laying claim to the land, the request was initially met with resistance.
Monica Achieng, who says she has a stake in the land, said they discussed the issue.
"When the death occurred, there was pressure from the villagers who said the dead had no mistake, and we needed to bury him and discuss the rest later. We allowed the burial to proceed."
James Onyango, 35, moved from Kanduru to Kadiel village to seek refuge in April last year.
Someone offered him a kitchen where he lived with his wife, five children and 20-year-old brother.
"When my brother, Reagan Okoth, died in April this year, we had nowhere to bury him because our parents' home was flooded. We had to get a place near my home," James said.
Unfortunately, the area had also flooded and the grave was submerged.
Ombaka chief Jacob Ong'udi said he has been involved in discussions between land owners and people asking for burial sites.
"Most of our people are interrelated, and we all understand the situation. So when someone comes to ask for a burial site, they get a soft landing. I remember three recent cases that we sorted without any issue," he said.
His Ogenya counterpart, Barnabas Odhong', said those who have been displaced from their homes have few alternatives.