Why fish is an expensive delicacy for Lake Victoria locals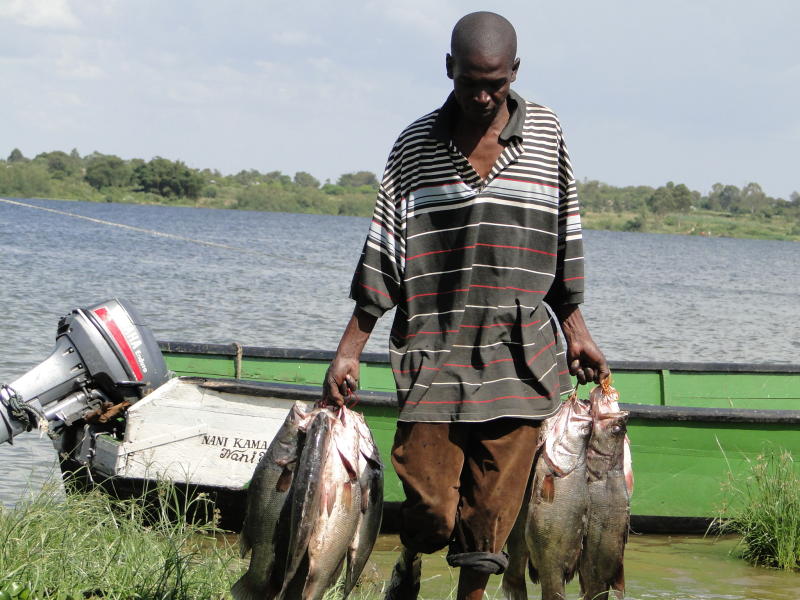 Some years back, fish was an everyday delicacy during lunch or dinner for those who grew up in Nyanza thanks to their proximity to Lake Victoria. Not anymore.
Most families are increasingly finding fish expensive. To some people, this is ironical since most of the fish sold in Kenya, including Tilapia, Nile Perch or Omena, come from Lake Victoria.
Some residents said they only eat fish during occasions such as wedding ceremonies, parties and during Christmas, thanks to the ever skyrocketing prices of fish in local markets.
Dorothy Akinyi, who spoke in Kisumu on Tuesday, said she can no longer afford the cost of fish. "We have resorted to omena which is a bit cheaper," she said.
"About ten years ago, I would use only Sh500 to buy enough fish to feed my family. That is no longer possible. Today, I will need up to Sh1,500 to do that," said Akinyi.
She said traders don't want to sell fish to local consumers as they focus on bigger markets in Nairobi and other urban centres.
"And if at all they sell to local consumers, they hike the prices so that the fish can still fetch them the same amount of money they would pocketed had they sold the product in Nairobi. The focus on bigger markets is one of the reasons fish is expensive in Kisimu and the entire Nyanza region," said Akinyi.
Another resident, Alice Aluoch said: "I switched to omena and vegetables when tilapia became too expensive. However, the price of omena has also gone up because of its demand in making animal feeds."
Mr Christopher Aura, the deputy director of Fresh Water Systems at Kenya Marine & Fisheries Research Institute, said omena has become expensive because it is an important raw material in the manufacture of animal feeds.
Middlemen have not made things any easier for residents. They buy the fish from fishermen and sell it at very high costs.
At the same time, the water hyacinth that has invaded Lake Victoria has made fishing a nightmare thereby reducing the number of fish caught. Fishermen have to put in so much effort to make a catch.
Mercy Atieno, a food vendor in Usenge town, said she prefers buying fish directly from fishermen. By cutting out the middlemen, Atieno said, she can also sell the fish at a price her customers will not complain.
"Even then, buying fish directly from fishermen does not necessarily mean it will be cheaper but it is better than buying from a middleman," said Atieno.
Atieno said she sells a piece of fish that cost her Sh150 for up to Sh300. "You must hike the price, putting in consideration all the other factors such as the cost of transport and cooking expenses, otherwise, you will close shop. As a result, so many customers are shying away from fish and preferring vegetables. It's a major gamble for those of us in business," said Atieno.
Susan Achieng, a fishmonger in Kisumu, said the commodity has become scarce. "We are forced to sell the little we get at high prices to remain in business," she said.
"I get fish from Usenge in Siaya County. Sometimes, I have to go all the way to Homa Bay County. Fish has become very expensive and unavailable. We have been informed that most of the breeding grounds in the Lake have been interfered with. Actually, most of the fish eaten in Nairobi is from fishponds," said Achieng.
"One of the ways to know fish from a pond is that its bones are smaller. Fish from the lake as a lot of flesh compared to those bred in fishponds."
Joseph Osala, a fish trader at Usenge beach, said they incur so many expenses which must be factored in the pricing.
"We also consider how much they fish could have fetched in markets outside this region, say in Nairobi, and that it the amount most traders will ask for. That is what has made fish expensive in areas around the lake."
John Ochieng, a fisherman, said lack of processing plants in the region has made fish expensive.
"There are also no laws to regulate the pricing of fish which has left consumers at the mercy of traders," said Ochieng.
The State Department of Fisheries has regulations on how fishing should be carried out to ensure only mature ones are harvested. However, these rules are rarely followed.