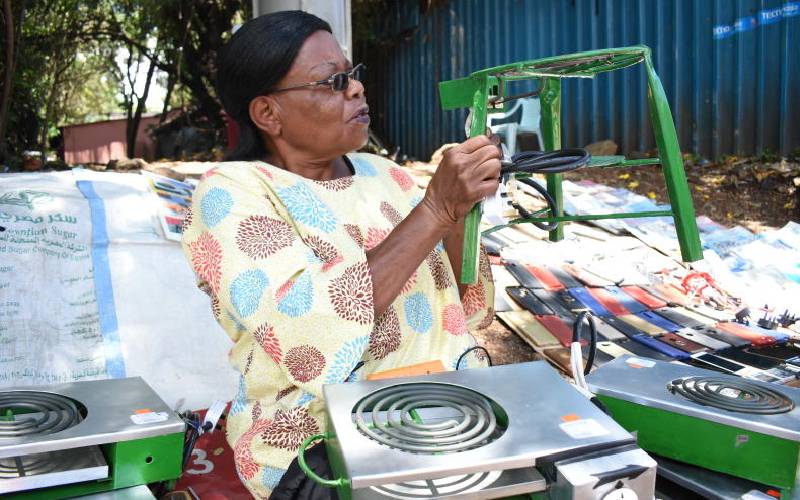 "It's only in Africa where age is such a big issue. In other places, it is all about what you can do with that age. As long as I have the strength to fend for myself, you will still find me here."
These are the words of 60-year-old Grace Kasera, a metal fabricator, whose skills in making electrical cookers leave people in awe.
Despite her advanced age, she is still conducting her trade from the streets of Kisumu. She is not ready to retire to her rural home in Migori to "babysit her grandchildren" as her colleagues usually mock her.
"I think I still have some 10 to 15 years more to continue working. I don't want to become a beggar," said Kasera.
The trained secondary school teacher dropped the chalk to follow her dream of becoming a technician, and she has never looked back.
Kasera sat her Kenya Advanced Certificate of Education (KACE) in 1980 before joining Kenyatta University College (now Kenyatta University) for a degree in Education Science, with options of teaching Mathematics and Chemistry.
Four years later, she graduated and was posted to Kisumu Technical Secondary School (currently Kisumu Polytechnic) where she worked for six years before she quit.
She joined an NGO in 1992, until 1999 when she left to follow her dreams. It is then that she then joined her husband, Samwel Nyangweso, in his electrical shop on Jomo Kenyatta Avenue.
"It felt awkward as I couldn't identify some of the gadgets in the shop, or how to test them whenever a client requested for an item," she said. And in 2007, she enrolled at the National Industrial Training Authority (NITA) to pursue a certificate in Electrical Engineering.
It was here that she developed an interest in fabricating electric cookers, which she began to work on as while selling merchandise at her husband's shop.
Four years later, demolitions to clear pathways within Kisumu streets affected their business, and her husband relocated to Migori town. Kasera chose to remain behind as she had already identified a niche for innovative electric cookers.
Today, she operates from a corridor under a tree on Jomo Kenyatta Avenue, opposite Jomo Kenyatta Sports Ground.
"It takes me between 30 minutes to one hour to assemble one cooker," she said, as she adjusts her magnifying spectacles.
As the writer engages her, a few customers come by, enquiring about her cookers. Her marketing skills are impressive, which she delivers in impeccable English.
"Many people get surprised when they hear me speak. Not everybody knows my story, that I am a graduate. My love for this job is what keeps me here," she said.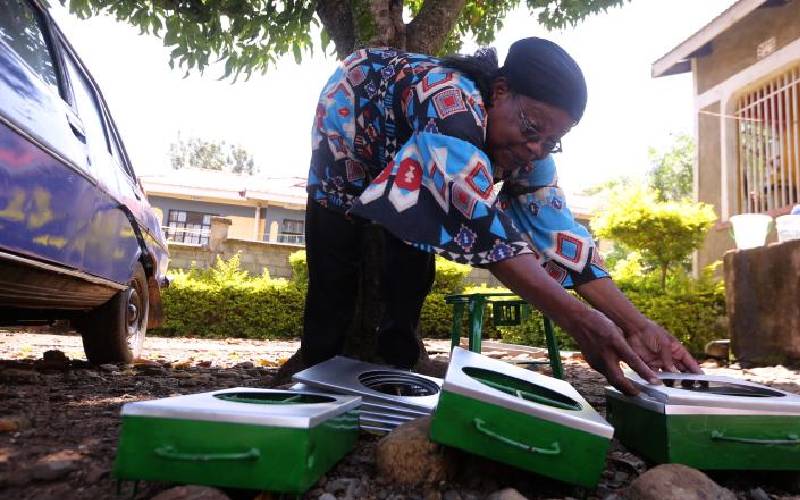 Once in a while, she visits the hardware to buy metal rods and plates, then goes to electrical shops to buy cables, coils, bolts and other materials. She then takes the metals to the welders, who produce the skeleton from her four main designs, which she then assembles under the tree.
"I make the stool type, double cooker, single box with switch, and one without a switch," she said. The stool type is the simplest to make, while the double cooker is the most complex.
The cookers retail at between Sh2,500 and Sh6,000.
Kasera's interest in fabrication began in the late 1970s while a student at Lwak Girls High School, in Siaya County.
Even at her old age, she still nurses ambitions of expanding her business and set up an assembling plant where she can produce cookers in bulk.
Her biggest daily sale was in 2018 when an employee of a local bank bought seven cookers for Sh20,000.
"He told me he had several imported cookers and that any time one became faulty, he would take it to the technician and many were unable to repair it, or some would quote exorbitant fees," she said.
Today, she runs a WhatsApp group where she adds anyone who passes by to inquire about her products, and she uses the same to reach out to others.