KeNHA warns motorists against using Goye crossing as floods wreak havoc
??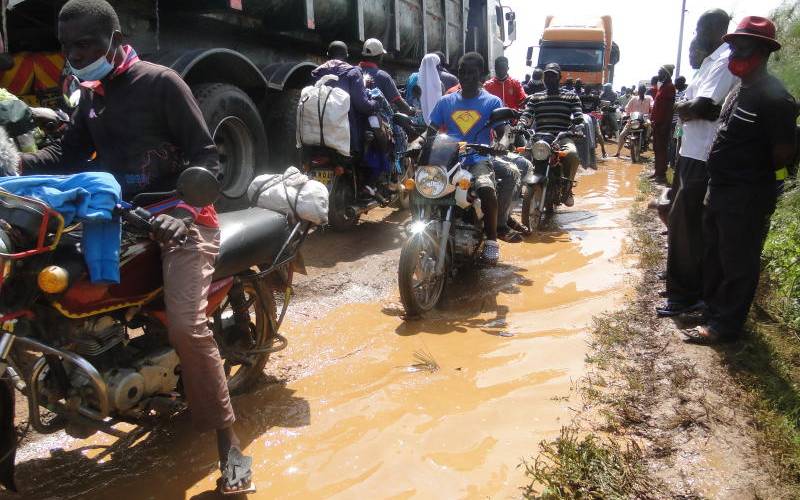 Kenya National Highways Authority (KeNHA) has warned motorists against crossing Goye causeway due to the overflowing Lake Victoria.
According to KeNHA, the situation is as a result of the heavy rainfall pounding the Nyanza region, affecting sections of the Lake Victoria basin.
"Since there is no alternative access to Osieko, we wish to advise motorists along that section not to attempt crossing the overtopped section, and to only cross when water levels are low," said KeNHA.
The authority further warned trucks against using the crossing as they evaluate mechanisms of undertaking works on the structure.
Goye crossing, which was built in 1975, was estimated to operate for 20 years before a new one could be built.
On Wednesday, commuters were stranded for the better part of the day as they waited for the water levels to go down.
Onyango Oduma, a driver, told The Standard that he has not reported to work because of the condition of the road. "I've not been able to cross to the other side to get sand for my clients."
Oduma said the failure by the government to construct the bridge despite numerous complaints from the residents has led to the current situation, adding several operations have been affected.
"We have a hospital, more than four schools and a factory that has employed more than 200 people on the other side," he said.
Last week, transport along the busy road was paralysed for hours following an accident. A truck overturned and blocked the road leading to a snarl-up.
Residents called on the government to repair the road to save them costs they incur and the time they waste using the dilapidated road.
A commuter, Dorothy Achieng who had an appointment at Got Agulu Hospital, said she was forced to walk for more than two kilometres.
Aggrey Ochieng, a resident, termed the road critical to the economy of the county and accused local leaders of neglecting it. "We have raised the issue with the MP, governor and KeNHA but nothing has been done."
Elisha Odhiambo, a resident of Usenge Town, said they were spending a lot of money on car repairs. "Matatus and boda boda riders have also hiked fares," said Odhiambo.
Yesterday, KeNHA said that there were plans of constructing a permanent bridge.
"Procurement process is underway to solve the rising Lake Victoria water levels at that crossing," KeNHA said.