Man killed by crocodile in Lake Victoria, another survives attack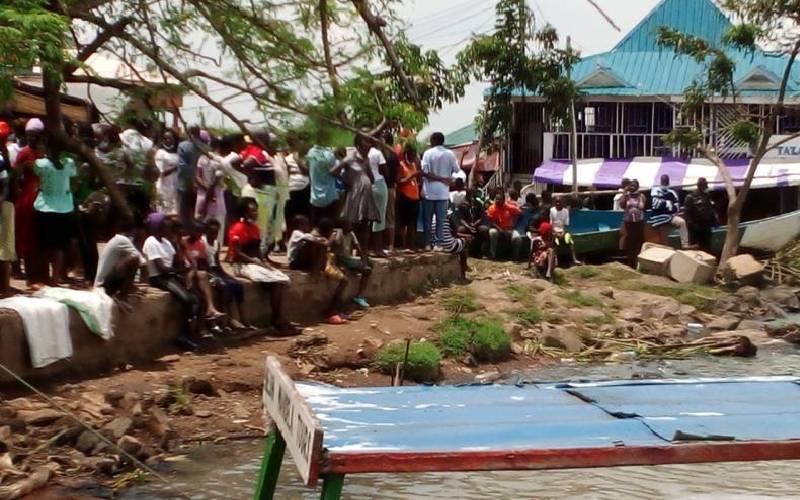 A family in Wigwa village in Kisumu County has been left in grief after their kin was killed by a crocodile in Lake Victoria.
Gabriel Okoth Oduogo, 35, was on a fishing expedition in the company of his friend when the incident happened at Nyandiwa beach.
His friend survived the attack but the incident caused panic all the way to Dunga beach where the fishermen trade.
Eyewitnesses said the crocodile emerged from a nearby papyrus weed on the shoreline before it attacked the deceased by grabbing him.
''He was attacked by the reptile in the morning in the company of others who had gone to lay fishing nets to harvest fish," Saitoti Ayoro said.
He cried for help as his shaken colleagues ran for their lives before they gathered courage a few minutes later to hurl stones at the reptile as it swam and dived in the water.
The fishermen later swam to safety at Dunga beach where they reported the incident to the locals and Kenya Wildlife Service(KWS) personnel who dashed to the scene in search of the body.
This is the second time a crocodile has attacked a fisherman in the lake in less than a month and more intriguingly from the same family.
According to the deceased sister Caroline Owuor Oduogo, just two weeks ago, one of her brothers Nick Owino Oduogo was attacked by a crocodile while on a fishing expedition.
Owino luckily escaped with injuries after the crocodile attacked him while fishing in the lake in the broad daylight.
His father Joseph Oduogo was at pains to come to terms with the tragedy.
He said he got the sad news while visiting Owino who suffered injuries on his leg and hand that were mauled by the reptile.
''One of Owino's fingers was bitten as he struggled to free himself from the tight grip of the crocodile's jaws and now again his brother has been killed by the reptile. Why does this happen to my family,'' he sobbed.
He recalled it was just by good luck that Owino's colleagues who were on the boat by then tying a rope responded by pelting the reptile head with huge stones and a panga.
The victim was rushed to Jaramogi Oginga Odinga Referral Hospital where he is undergoing treatment after his lucky escape as the search for Okoth's body continued.
Owino's sister Owuor, said her brother was still writhing in pain in a hospital bed and had lost a lot of blood due to excessive bleeding from the mauled hand and leg.
"He needs three pints of blood because he bled a lot," said Owuor.
County police commander Samwel Anampiu said he had deployed security personnel to control crowds building at the scene.
Dunga Beach Management Unit chair Joel Otieno blamed the attacks by crocodiles on an increase in fishing activities in the lake.