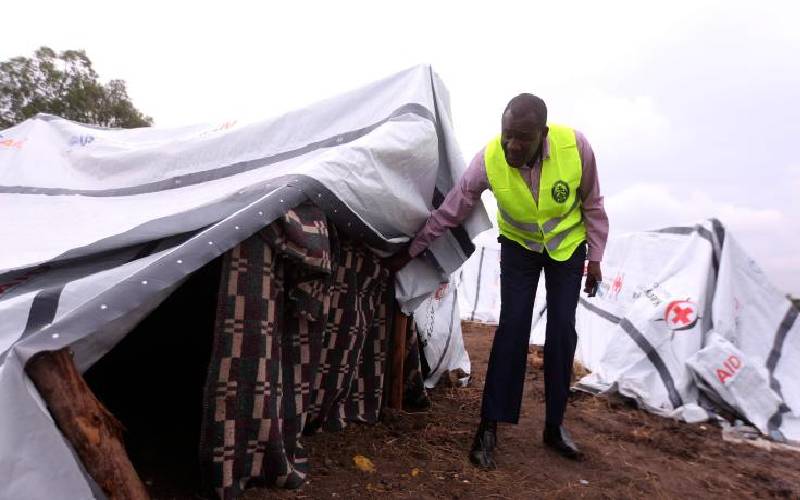 The Nubian community has called on authorities to improve conditions at a field in Kolwa, Kisumu County, where they are living in makeshift structures after they were evicted from a disputed land.
They have also urged the county government to expedite the process of resettling them.
Kenya Railways (KR) has laid claim to the land in Kibos, which the Nubians say was given to them by the colonial government in 1937.
The field, next to Kisumu East CDF office, is prone to floods that have made life difficult, especially for the elderly. The 850 people have been living in deplorable conditions for three months now since they were evicted from what KR says was a railway reserve.
KR accused them of encroaching on land meant for expansion of the railway line and forcefully evicted them.
The Nubians say their eviction was illegal.
They were moved to the land where they are currently living by the Kisumu City authorities.
"We had lived on the land since 1937 before we were forcefully evicted. It has been tough for some of us, especially those of us who are elderly," said 82-year-old Khadija Rajab.
"We did not expect this. But if we must move out so the railway can be expanded, then the government should compensate us," she said.
Rajab said other than floods, they have to contend will mosquitoes and rodents. She wondered why they were taken to the flood-prone field, a move she said has complicated their lives.
They have been depending on Kenya Red Cross Society, relatives and well wishers for food.
Abdi Asha, 39, called for justice saying KR had no right to take away their land.
"We are Kenyans by birth and deserve fair treatment," Asha said.
Most of those living on the 18 acres belonging to the county government cannot fend for themselves.
Acting City Manager Abala Wanga said the county government has started the process of resettling the Nubians.
In the meantime, Wanga said they had built three tents to improve their living conditions and were in the process of controlling floods at the site.
Hassan Hussein, an elder, said they were happy the county government had started settling them, but urged the authorities to expedite the process.
Last month, the Environment and Land Court extended conservatory orders stopping KR from forcefully evicting the Nubians from the land.
This followed a petition by Fatuma Bilal, Rashid Sadii, Mohamed Abdulrahman, Mwanamisi Kinduli, Yaya Musa and Asaman Musa filed on behalf of the community.