Family reunited with baby stolen from clinic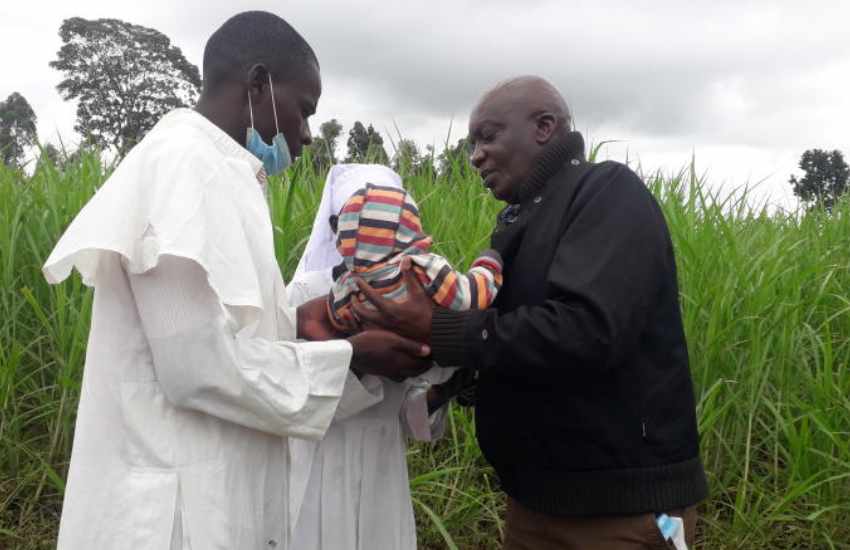 A baby stolen three months ago at a hospital has been reunited with his parents in Siaya County.
The baby boy was found after a woman suspected to have stolen him sought help from a church on grounds that he was torturing her.
The infant was stolen a few minutes after they had been discharged from Ndere health centre in Gem Sub-county where his two-year-old sibling had been taken for treatment.
The family said the incident happened three months ago when they were still at the outpatient wing waiting for a motorcycle to take them back home.
The child's mother, Mary Akinyi, said her mistake was her decision to help a stranger 'in distress' who later on disappeared with her child.
Akinyi narrated how the stranger, a woman, approached her at the hospital and complained of being very sick and unable to walk.
"She told me she was feeling unwell, that her legs were so painful she could not walk and requested if I could get her a treatment card," narrated Akinyi.
She added: "That is the last time I saw my son. When I returned with the card, I did not find the woman or my son. She disappeared and left my two-year-old daughter there."
Her daughter told her that the woman had boarded a motorcycle together with the baby.
"His sister was crying uncontrollably when I returned. I asked her where her brother was and she pointed to the gate," she said, adding that the matter was reported at Ndere Police Station.
Raphael Ooko, 32, the father of the baby, said they have been searching for their son until last Thursday when they received a call from the police that he had been found.
"Life has not been easy. I tried to be strong and accept. We spent most of our days praying. It is because of our hope and faith in God that our son is back to our family," he added.
Amani Children's Home Director Rev Kenneth Wachianga, who found the baby after receiving calls from church members, took him in for three days as the police searched for his parents.
Wachianga narrated how some church members called to tell him that a woman had claimed that a baby she bought from his children's home was torturing him.
Wachianga said the woman told friends, relatives and neighbours that she bought the baby for Sh10,000.
"She resides in Siaya town. I was given directions to where she was selling airtime scratch cards. I found her with the baby whom she had placed on the ground under the table," said Wachianga.
He added: "I interrogated her to find out if the baby was truly hers. Her stories were not adding up and she could not recognise me despite claiming I sold the baby to her from Amani Children's Home. She even lied that the baby was given to her by the husband's girlfriend who had given birth but was not ready to take care of him."
Wachianga said the woman's story kept changing from having bought the baby at his children's home to eventually admitting that she stole him in Kisumu.
The suspect is being held at Siaya Police Station.