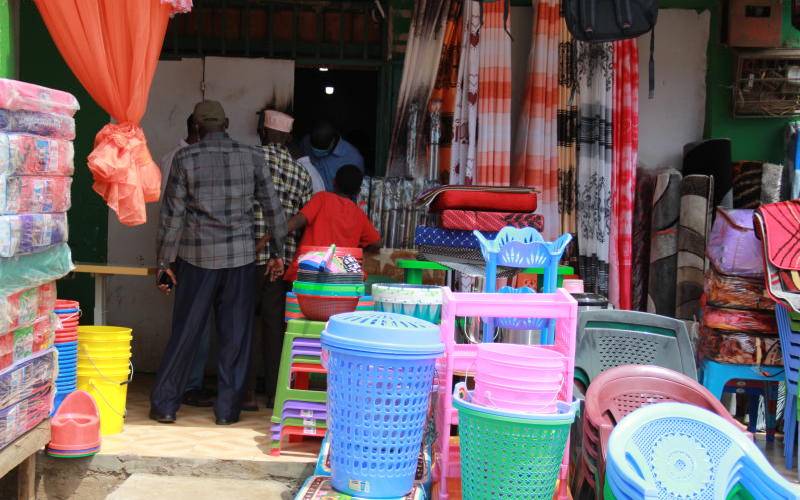 A group of businessmen in Homa Bay town are counting losses after their shops were broken into.
Led by Hassan Mohammed who owns Dawa Fashion shop, the businessmen said they woke up to the shock of finding their premises broken into and goods looted.
According to them, the unknown gangsters took advantage of the curfew hours to commit the crime.
The traders said Nusra and Taqwa supermarkets, Dawa Fashion Shop and Baraka Shoes Shop are among the shops that were affected.
Mohammed said the gangsters made away with property worth more than Sh500,0000 from his shop.
"We woke up this morning and discovered that the doors of my shop had been broken. Upon entry, I found goods had been stolen," Mohammed said.
The stolen items included television screens, music systems, carpets, thermos flasks, food and non-food items were stolen from the business premises.
Mohammed Eden said the police should move swiftly and apprehend the offenders.
"Our businesses have suffered in hands of the gangsters for the last two weeks. Goods worth Sh12m have been stolen from us are a serious economic setback," Eden said.
He said the theft is going to render them jobless if it is not curbed soon.
"We and our families have depended on these businesses for more than 40 years. The collapse of the businesses will kill us because we will no longer have a source of livelihood," Eden added.
Another trader Ismael Hilow said the theft is becoming a worrying trend.
"I have been in business in this town for over 50 years. I appeal to security intervention because these incidents risk hurting our economic wellbeing," Hilow said.
Bashir Hussein said it was wrong that suspects were taking advantage of the curfew to raid their shops.
"It is wrong that we abide by curfew orders but thugs take advantage to destroy our businesses," Hussein added.
The traders alleged that they were being targeted because they are of Somali origin.
However, Homa Bay Sub-County Police Commander Sammy Koskey accused the businessmen of laxity in reporting the matter to the authorities.
Koskey said the traders only reported theft at Nusra Supermarket and Dawa Fashion Shop.
"We wanted to arrest a security guard at Nusra but the supermarket management withdrew the case because they were negotiating for compensation with the security firm. Meanwhile, we have launched investigations at Dawa shop," Koskey said.
The police boss said security patrols would be intensified.
"We are boosting our patrol in the town. Meanwhile, let the traders report theft incidents to enable us to take appropriate action," Koskey said.