Security guard killed, digital literacy gadgets stolen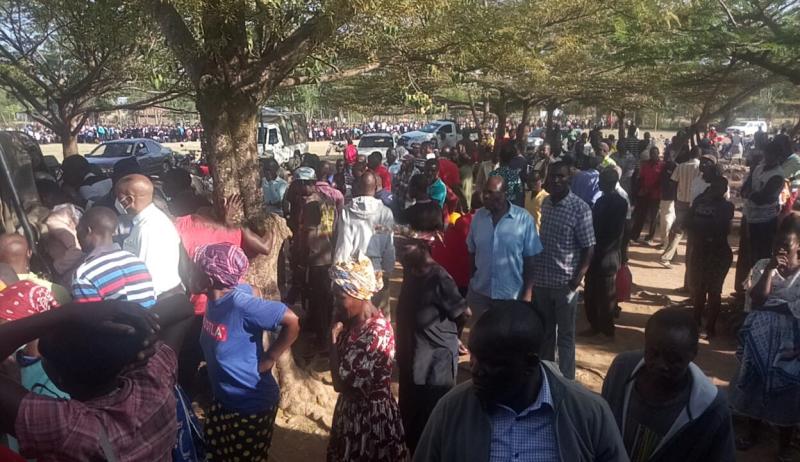 A primary school security guard was murdered and digital learning gadgets stolen in Homa Bay on Tuesday.
This was after robbers raided Ayub Okoko Primary in Rachuonyo North Sub-county and killed the guard identified as Peter Olenyo.
The gang entered the school at 4am and attacked the 61-year-old man with sharp weapons.
The senior citizen sustained injuries on various parts of the body before he died in the hands of the assailants.
His body was then placed on the table in one of the classrooms as the criminals proceeded to break into the head teacher's office.
The school headteacher Evans Adoh said the criminals made away with digital learning equipment including two projectors, two laptops used by teachers, and four tablets used by pupils.
"It seems the criminals entered the office through the window and cut the door padlock," Adoh said.
He added that this was the second time the thugs were raiding his school since last year.
"Thugs had made an attempt of breaking the window of my office during the coronavirus break last year. They have been targeting my school," he added.
The Kenya National Union of Teacher's Executive Secretary in Homa Bay County Patrick Were expressed concerns over increasing cases of thugs who steal digital literacy programme machines in the schools.
"It has happened in other schools, the thugs were targeting digital learning programme gadgets," Were said.
He called on the government to provide schools with more funds for employing trained security guards from reputable security firms.
Were said lack of adequate funds forces many schools to employ untrained security guards who can accept low pay.
"The money the Government gives schools for support staff cannot enable schools to hire guards from security firms. Let the State give schools more funds or assign police officers to guard schools," Were said.
Elsewhere, a 27-year-old man identified as John Odhiambo was found dead in Kendu Bay town in the same Sub-county the same morning.
Rachuonyo North Sub-County Police Commander Sarah Chumo said they were investigating the two incidents.
"We are conducting investigations to ensure legal measures are taken against the people who killed the guard and stole learning equipment. We are also investigating what caused the death of a man whose body was found in Kendu Bay town," Chumo said.