Mother escapes unhurt as three die in house fire incident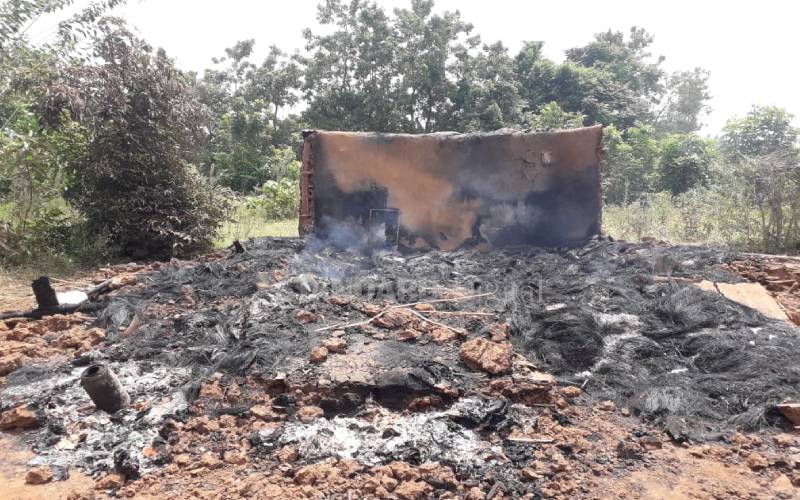 Three children were burnt to death after a fire gutted their house in Siaya County on Thursday night.
Their mother and a 10-year-old sibling escaped unhurt.
The incident occurred at Baragulu in Alego Usonga sub-county.
Two of the children who died were three-year-old twins while the other was aged five.
Their mother; Maline Anyango and her other 10-year-old daughter Mahalath Achieng escaped unhurt.
Two of the children who died were four-year-old twins; Britney Atieno and Brenda Awour. The other child Jane Mary aged six years also died in the night inferno.
Anyango said she came back in the evening from the market and prepared early supper for the children before they went to bed.
At around 11pm she noticed a huge fire from outside the house.
The children were asleep on the seat. "I ran out to my mother's house to seek help. All the three children had been burnt beyond recognition by the time I came back. The elder child had followed me out."
"I didn't save anything from the house. I was unable to rescue my children."
Anyango's husband Daniel Omondi who works and stays at Usenge market said he talked to her wife a few minutes to 11pm on the fateful night before I was informed about an hour later that my house was gutted by fire killing my three children.
"I talked to her and enquired about the children's schooling. At around midnight my crying sister called me but spoke to someone else using her phone. He told me my house had been burnt down with my children inside."
Omondi asked for help from well-wishers to assist him to put back his life in order saying the fire has left him with nothing.
"I have been struggling to feed the family with the meagre resources he gets as a casual worker and now my children and house have all gone. I need help," he said.
Area MCA Joseph Mboha said the pain was too much to bear, adding that he will talk to the county government to assist the family.
"Other than my personal donation, I will approach the County Government to help us in getting the family back to normalcy."
Area police commander Francis Kooli told Standard Digital that the cause of the fire was still unknown.
Kooli said the three children were burnt beyond recognition. "We are carrying out investigations to determine the cause of the fire."