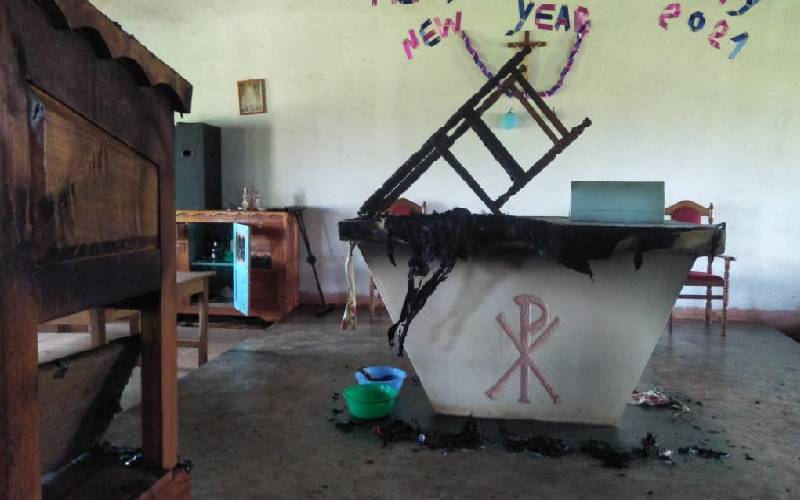 Police in Kisii County are hunting key suspects said alleged to have set ablaze six churches in Otamba area Nyaribari Chache.
County Commander Jebel Munene said there has been enhanced security in the area in the last three days.
"We have had a series of meetings with all security stakeholders and in the coming days, we are likely to arrest the main suspects. We now have 24-hour security patrols in the area."
A week ago a local Catholic Church; St Augustine sitting was set on fire by unknown people. The church's pulpit was completely destroyed.
Read More
According to the residents, they woke up to find the church was broken into and torched.
Two other houses belonging to Christians who worship in the said church were also set ablaze. The Catholic Church leadership visited the scene and condemned the act.
Kisii County Nacada Coordinator Father Lawrence Nyaanga linked youths abusing drugs to the arson
"The area has several changa'aa brewing dens. A number of our youths have dropped out of school and joined boda boda industry."
On Saturday night, similar incident was witnessed after Otamba PAG church, Nyangeni SDA and Otamba Worldwide church were also set ablaze.
Several shops were also burnt at Menyinkwa near Nyaura Secondary School were also torched.
A member of the community policing; Julius Nyaribo said the suspects had taken advantage of the curfew hours to undertake their evil activities.
"The burning of churches is a curse to all those who committed the crime. God will do wonders and have them surrender to the authorities."
Nyaribo dismissed any claims of wrangles in the church as the cause of the fires.
"It is not about conflicts in our churches. Let the police carry out detailed investigations and arrest the suspects."