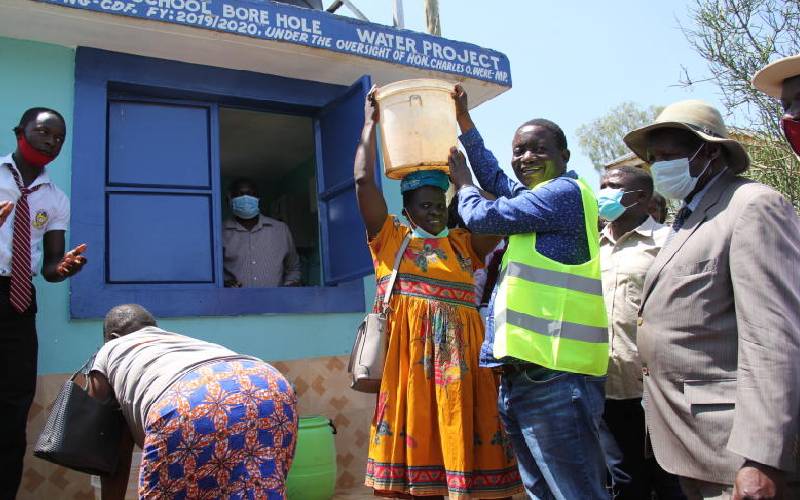 Kasipul MP Ong'ondo Were opened and handed over to the community a Sh3.7 million water project that will benefit more than 10, 000 households in the area.
While opening the Nyalenda Mixed Secondary School borehole water project in North Kamagak location, Were urged locals to take good care of the project so that it serves them well.
"We have to cushion the project against vandalism and theft so that it serves it purposes," he said.
The project by Duntx Limited has seen water being piped into Nyalenda Primary School, Nyalenda Secondary School, Nyalenda SDA church and a local health facility.
Read More
Were who was accompanied by nominated MCA Mary Gaya said the water will enhance economic growth.
"The water can also be used by residents to grow horticultural crops to boost their standards of living," he said.
The MP said the project will also cushion the residents from communicable diseases.
"Water is life and availability of safe water in this area will cushion residents from water-borne diseases," the MP said.
The MP said he is committed to improving the health of residents by providing them with safe water.
Gaya said implementation of the water project will cushion women from waking up at wee hours of the morning in search of clean water from seasonal rivers.
"Many women have had sleepless nights due to the shortage of clean water. I am happy they will now sleep because the clean water is available," Gaya said.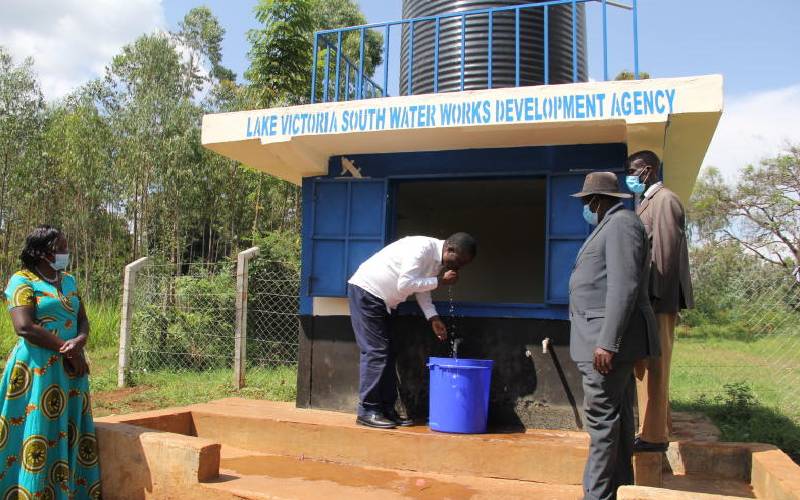 On Monday this week, Were opened another water project at Kotieno Primary School.
The Kotieno water project will serve about 5,000 people including students of Kotieno primary, Kotieno secondary schools and the local Catholic Church.
The water has also been distributed to the local community through a water kiosk built outside the school compound.
Were who is a member of the National Assembly Environment and Natural Resources Committee said his aim is to address water shortage in his constituency.
"Water is life and that is why I liaise with the government to implement these projects for our people," Were said.
Kotieno Primary headteacher Mary Mimba said the project will boost the fight against Covid-19 in her school.
"We thank God that project has come a time when we need a lot of water for handwashing to cushion pupils and teachers from the coronavirus," Mimba said.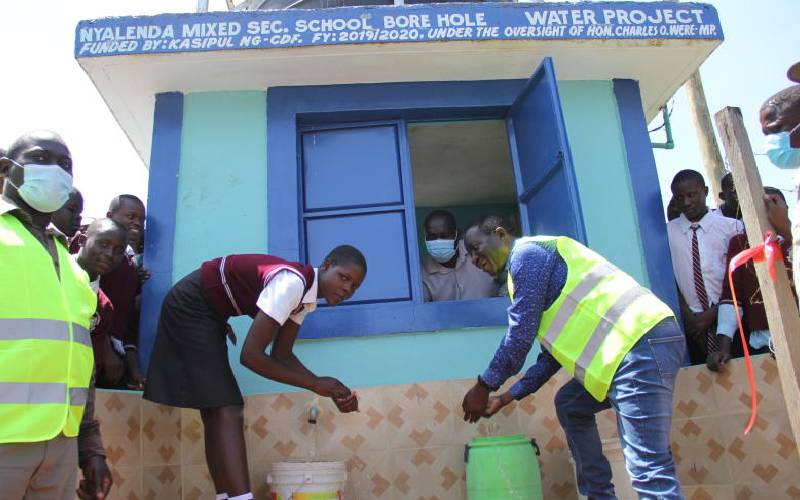 Were also gave Kotieno primary school a bus. The vehicle will be used for undertaking academic trips.
The two projects were funded by the National Government Constituencies Development Fund (NG-CDF) and the Lake Victoria South Water Works Development Agency.