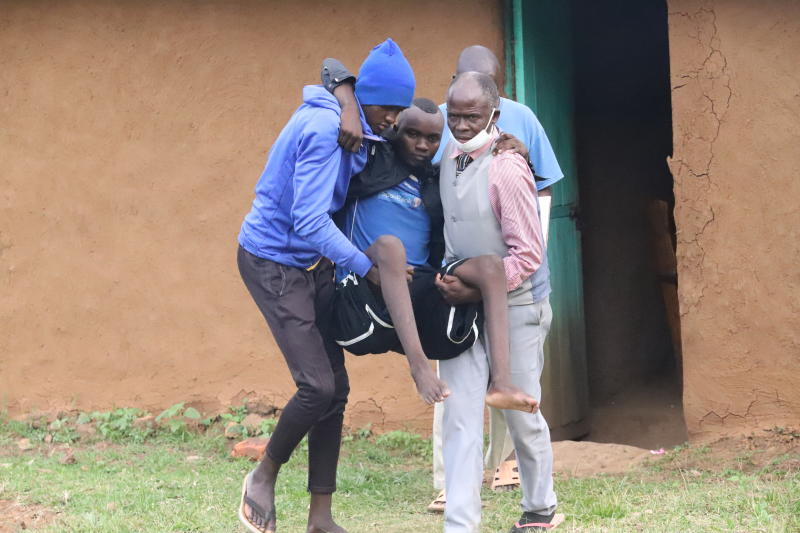 "Are you the father to Steve Biko? Please come to the station and pick him now," these are the words James Owino recalled from a phone conversation he had with an officer at Oyugis Police Station on January 4.
Owino had not set eyes on his son, Biko, for close to two years.
Biko, 22, had been jailed for two years after he pleaded guilty to burglary charges.
"The boy knows home and can make his way here with ease," Owino told the police officer, before he broke the sad news: "He cannot walk. You have to come for him or send some money for a taxi."
He sent money and the officers hired a boda boda rider to ferry Biko from the station to their home in Kotwoya village, Rachuonyo East, Homa Bay County.
Read More
Owino said that Biko was arrested together with another person in September 2019. The duo was booked at Othoro Police Station before they were arraigned in Oyugis magistrate court.
Transfered
They were accused of stealing cereals and bedding but denied the charges. However, they later pleaded guilty during mention of the case.
The duo were sentenced to two years and taken to Kisii Prison, transferred to Homa Bay Prison, and finally Kibos Medium Prison in Kisumu in 2019.
"Due to poverty and lack of knowledge about the operations of the court, we did not manage to follow up and know the whereabouts of our son," Owino said.
And when he set his eyes on Biko on January 4, he was lost for words. The boda boda rider helped Owino to carry his son into the house.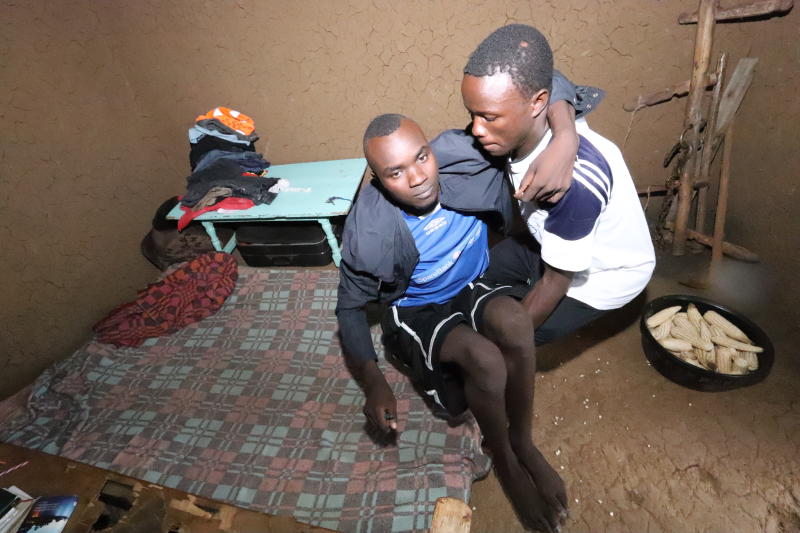 Biko, who was a footballer had been rendered immobile after time in prison.
When we caught up with the family at their home, Biko was seated on a mattress in the sitting room.
Owino and a neighbour assisted him to go out where he revisited the ordeal of October 15, 2019 in the hands of wardens at Kibos Medium Prison.
Biko recalled that on the fateful date, together with other inmates, they had gone to the farm for normal duties, when he began feeling sick.
"I felt excruciating pain in my jaw. I explained to the officers, but they instead took me to an office where they accused me of malingering," he said.
He said he was found guilty of the charges, and was subjected to additional seven days in jail, and corporal punishment.
"I was to undergo corporal punishment for 30 days starting that day, and every day I would be summoned to the Duty Officer's office where two to three officers would hit me with batons. I had a fracture in my left hand, and my knees were swollen to the point I could not stand," he said.
Biko said three days later he lost strength, and could not move, forcing him to rely on other inmates to carry him around and bathe him.
"I was blocked from getting in touch with my parents, and even at one point during the visiting day, the officers took me to Siaya Prison to hide me, thinking my parents would find me in that state," he said.
Regular forums
Biko also said that every time he would be taken to the hospital, the officers would warn him against telling the medics how he became immobile.
His parents are now seeking funds to take him for specialised treatment.
"We had spent the little money we had on his siblings who were returning to school, and we are seeking help to have him get medical attention even as we fight for justice," Owino said.
Charles Otuoro, the Kibos Prison in charge confirmed that indeed Biko served his full term including the additional seven days as indicated in his testimony.
Otuoro, who joined the facility four months ago, however, said that there were no reports of torture. He explained that despite the law allowing the officers to use force, the circumstances have to be authenticated and documented.
"Since I came to this facility, we have had regular forums with the inmates, where they report about their welfare and any form of violence against them. We also have two phones; one donated by Kenya Red Cross Society, and another one by this facility which the inmates use to communicate with their kin," he said and assured that they investigate Biko's case.
According to medical records at the prison, Biko visited Jaramogi Oginga Odinga Teaching and Referral Hospital, and Kisumu County Hospital, with the latest visit being on December 1, 2020.
The records show that he has weakness of the lower limbs but there is no indication on the cause of the condition.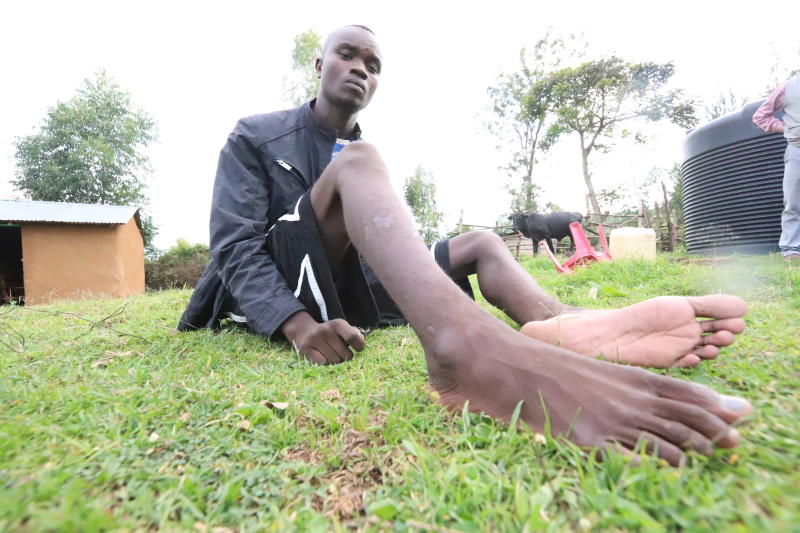 Another record from a hospital visit in mid-November showed that Biko had an 'old fracture' in his left arm, but did not indicate the cause. Biko however claims that he sustained the fracture while being punished by the warders.
"Having not been around during the mentioned period, I may not confirm or deny Biko's allegations. But we will conduct an investigation internally and with the hospitals where Biko was treated," he said.