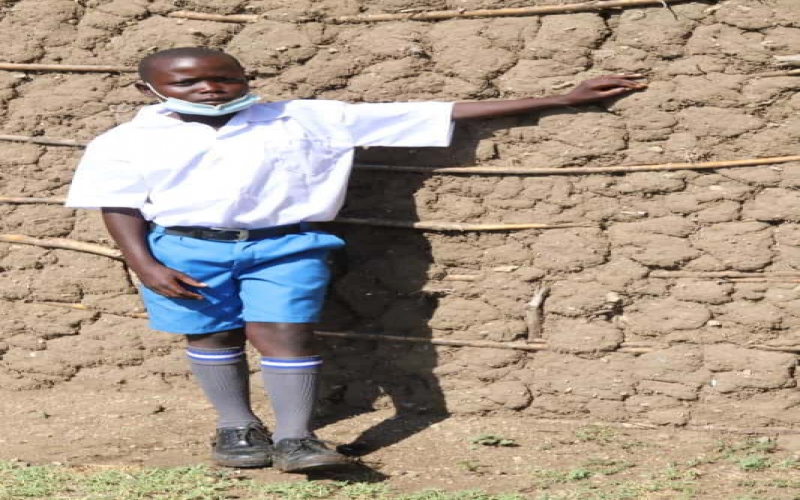 Thirteen-year-old Clinton Onyango is a troubled boy. He has no place to call home after their house in Kajowi village, Nyando, Kisumu County, was swept away by floods in February last year. The family lost everything during the incident.
And as if that is not enough, the same floods raided Onyango's Ogenya Primary School and destroyed classrooms. Roofs and walls of some of the classrooms were completely destroyed making resumption of school a major nightmare for the school management.
On Tuesday, The Standard Digital published a photo of Onyango in worn out sandals. The picture went viral as it was shared on almost all social media platforms.
Read More
He was with his Grade Three classmates at school. The children were forced to endure the scorching sun as there was nowhere to hide after floods destroyed their classroom as well.
The photo that later went viral caught the attention of many Kenyans who sympathised with the young one as well as all those who have been affected by the situation.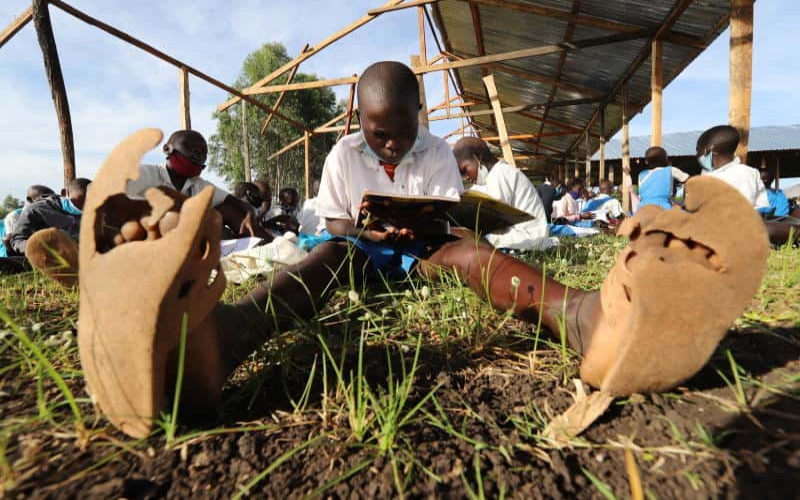 However, Onyanyo can now afford a smile thanks to a neighbour who has allowed his family to stay in his house temporarily, as they await the floods to subside.
Two kilometres
When The Standard caught up with Onyango at their new home in Kanyiamo village, the boy looked brighter. The neighbour allowed them to stay in his house, about two kilometres from their home, because he is currently not staying in the village.
Other well-wishers gave them cash donations.
Onyango was donning a new school uniform and shoes, thanks to a Nakuru-based police officer, who heard about the family's plight and decided to chip in.
Onyango's father, Lasmiel Ojwang', a fisherman in Lake Victoria, lost his house and everything he owned when the floods struck.
Together with his family, they sought refuge at a tent that had been provided by Kenya Red Cross Society. This was until three months ago when wild wind blew the tent away leaving them homeless, again.
At Ogenya Primary, the only such institution in the area, members of the community, last week, came together to put up temporary structures to host over 500 pupils who were resuming on Monday after nine months following the closure of schools due to coronavirus pandemic.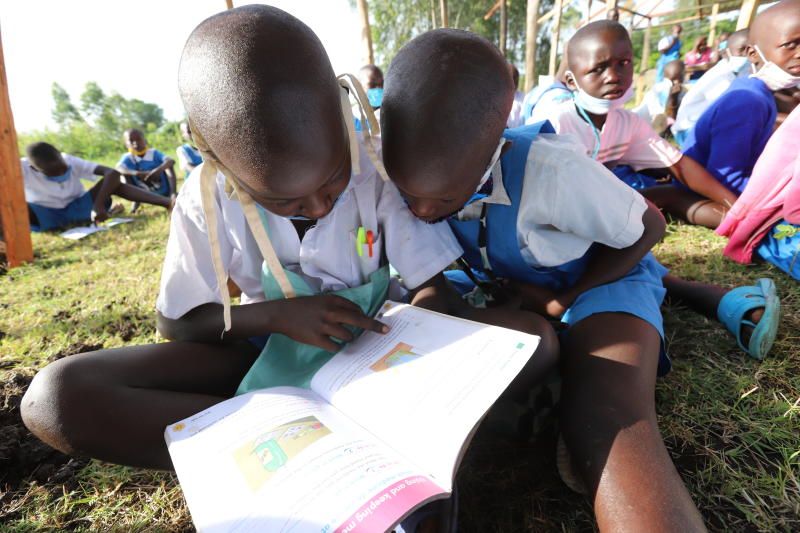 The need for improvement of the learning environment was evident with some of the pupils being forced to sit under the hot sun due to lack of enough classrooms.
Onyango and his colleagues braved the harsh weather conditions as they took their lesson in the open.
Ojwang', 41, said the last one year has been a nightmare for him and his family, especially due to floods that have impoverished them even further, taking away or destroyed the little they had.
"When floods started, we thought the waters would just subside after some time as has been the case. However, this was never to be. Many people are suffering after they lost their property," Ojwang' said.
He said the situation worsened forcing them to leave their home. They sought refuge at a centre where hundreds of people who had been displaced by floods were being hosted.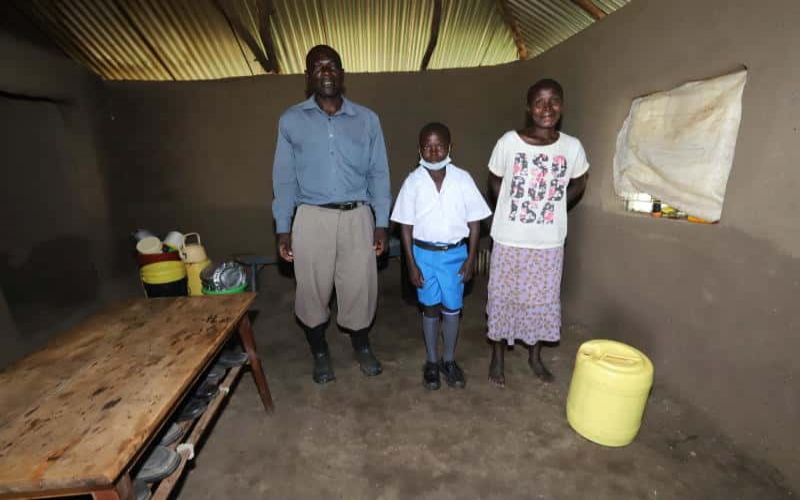 It was it September last year that wild wind blew away their tent. It was after this incident that a friend from the neighbouring village offered Ojwang' and his family a place to stay in the mean time as they wait the floods to subside.
"The owner of the house where we are sheltering does not live here. He felt since no one lives here, he should allow us in as obtaining another tent would be a toll order for me," he said.
Yesterday, Ojwang', his wife Carolyne Adhiambo and their son could afford a smile as they will be able to sleep without having to worry about floods.
Onyango has been wearing the worn-out sandals for the last eight months. "It is all I could afford. When I heard a picture of him wearing the sandals had gone viral on social media, I felt bad because it is my responsibility to provide for him," said Ojwang'.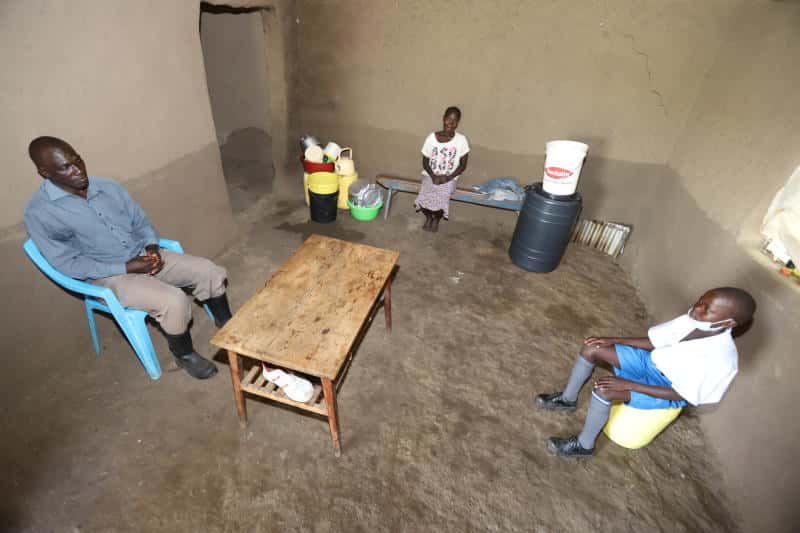 From his fishing job, Ojwang' said, he makes between Sh200 and Sh400 per day, which is not enough to meet the needs of his family.
"I used to supplement my earnings from fishing with farming. However, this became impossible when the fields became submerged in water," he said.
The chairman of the board of management of Ogenya Primary Fanuel Akongó said ensuring learning resumed has been tough test for them.
"The option we were given was to temporarily relocate pupils to a neighbouring school. The nearest school is 5km away. We decided to instead put up this temporary structures instead of having our children walk all the way," said Akongó.
Yesterday, headteacher Stanley Adoli said well-wishers had expressed willingness to help. "We are welcoming anybody who can help us so learning can resume," he said.
County Director of Education Isaac Atebe said the government had pledged to give Sh10 million to each primary school affected by the floods and Sh4 million to each secondary school.
At least six schools have been affected by flooding in the area. As a result, many as inhabitable.