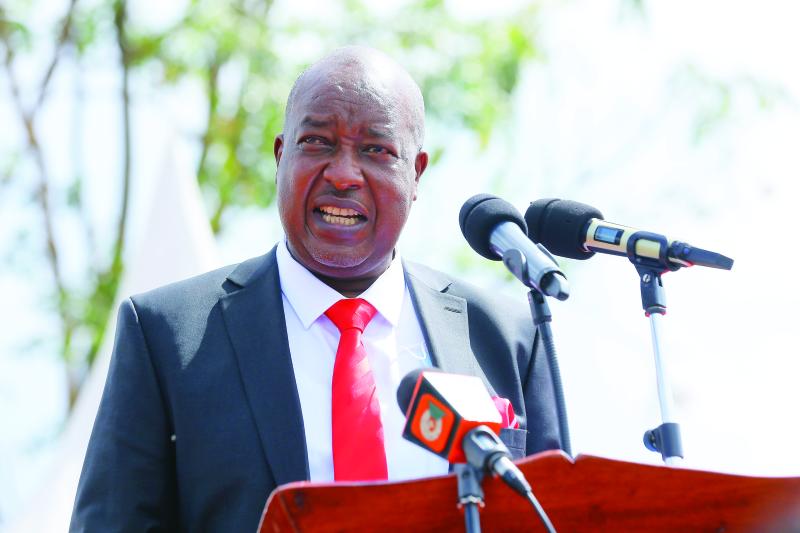 Just a few days after being sworn in, the new Nyamira County Governor Amos Nyaribo (pictured) is facing two major hurdles.
Nyaribo is faced with the huge task of appointing the next deputy governor and his cabinet as he seeks to take charge of county affairs.
Nyaribo, who has been a deputy governor for eight years, was sworn in on Tuesday as the second governor of Nyamira County following the death of his predecessor John Nyagarama three weeks ago.
Nyaribo's government is divided in the middle on appointments to the Executive Committee because he has to balance between political interests and clan ties.
Read More
The new governor may also be facing demands from the Orange Democratic Movement (ODM) Party, the vehicle he used to rise to office.
Though the party has not declared its official stand over the vacancy in the office of the deputy governor, an insider from Orange House, the party's headquarters, indicated that they were interested in the same.
Already, various interested people have positioned themselves strategically near the governor with hopes of securing the post.
The major headache is the criteria that Nyaribo will use to appoint his assistant.
According to Nyamira Youth Alliance Chairman Luthers Mokua, while clannism was likely to guide Nyaribo in choosing his deputy, focus on competence and track record of the prospective candidates should play a central role.
"While the new governor is keen on making appointments in his government, he should be keen on his choice," Mokua said.
The governor, who had frosty relations with his late boss, will also have to decide whether to hire new executives to serve under him or retain those he has inherited from Nyagarama's government.
The county has 10 Cabinet slots. Five of these are held by those who were in Nyagarama's kitchen Cabinet. The other five, who were Nyaribo's loyalists, are in office courtesy of a court order which reinstated them after they were sacked by Nyagarama early this year.
In his maiden speech after being sworn into office, Nyaribo avoided to talk about the kind of government he was going to form.
County Assembly Speaker Moffat Teya advised Nyaribo not to victimise anybody even as he moved to form a new government.
Nyaribo assured everyone he will form a government of inclusivity.
"I will ensure everyone is well accommodated and I will not victimise anyone," he said.
Nyagarama, 74, died on December 18 at Nairobi Hospital, where he had been admitted for more than a month.
Nyaribo took the oath of office at a ceremony led by presiding judge Esther Maina.