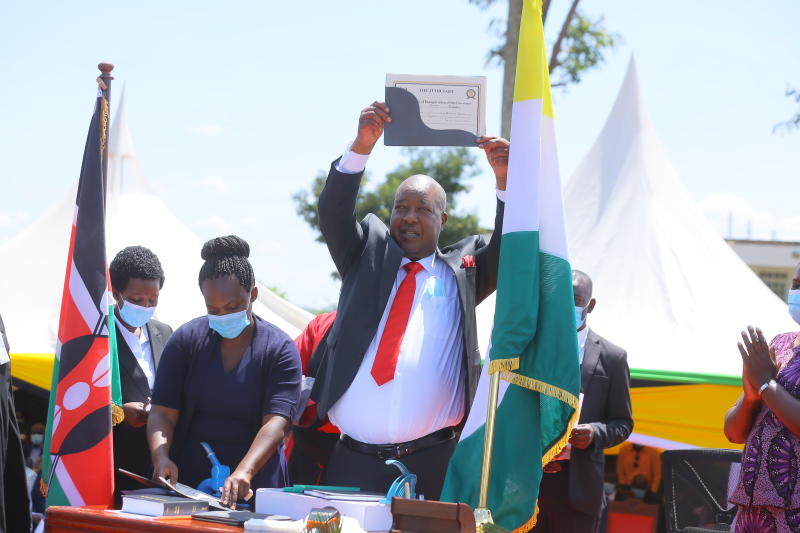 A full in-tray awaits Amos Nyaribo, who was yesterday sworn in as the Nyamira Governor following the death of John Nyagarama.
Mr Nyaribo takes over as governor after Nyagarama was buried last week.
A tough-talking Nyaribo yesterday promised to uphold accountability, saying he would strictly follow the law in discharging his duties.
In his address after he was sworn in by High Court Judge Esther Maina and Chief Magistrate Margaret Wambani, Nyaribo called on locals to report contractors doing shoddy work.
Read More
"We have been losing public money by paying for incomplete and ghost development projects. Corruption affects all of us. Let us not be silenced but report to the responsible agencies," he said.
He vowed to initiate a crackdown on ghost workers, who he said had crippled the county for years. "There are those who continue to earn a salary but have not been assigned any duties. We will bring you down and ensure that you have been taken into police custody for necessary legal action," he warned.
The governor cautioned staff against engaging in politics and promised to respect other leaders of the county.
Runaway corruption
Critics will be watching closely how Nyaribo fights the runaway corruption in the county, which he always challenged Nyagarama to fight.
During this year's International Anti-corruption Day that was marked in Nyamira, Nyaribo questioned Ethics and Anti-Corruption Commission (EACC)'s failure to prosecute graft cases locally. "We have always seen you (EACC) taking up cases of corruption. But we have never seen any outcome from such cases," he told EACC officials at the event.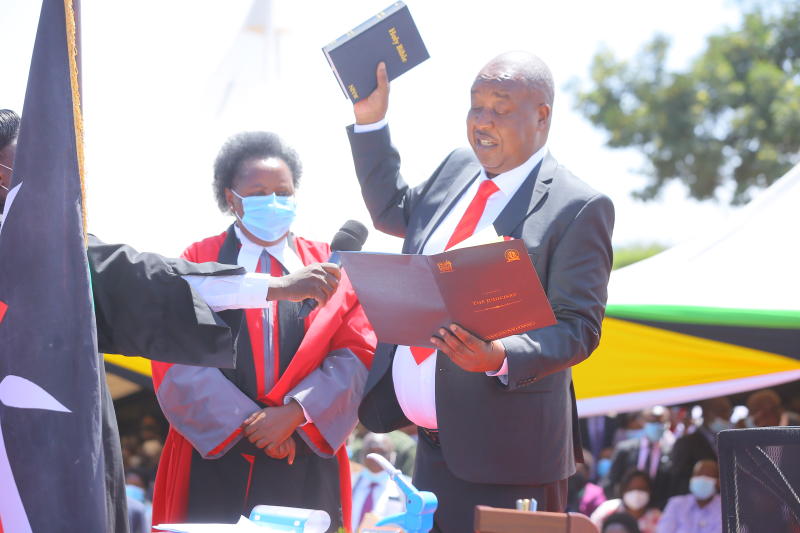 Nyaribo had on many occasions differed with Nyagarama over alleged illegal recruitment of county staff, payroll cleansing, stagnated development and misconduct among county officials.
The issues he may have to prioritise, according to locals who spoke to The Standard, include streamlining of tax collection that has stalled for some time now. "For instance, for years boda boda riders have not been paying taxes to the county after the former governor decided to relax his arm," said a Nyamira resident.
"He now has 18 months to prove to Nyamira people that he can outdo his former boss in the many issues he used to complain about," said Andrew Mandi, an investor in Nyamira.
It is also feared that Nyaribo may victimise county officials who were close to the former governor, and who are said to have disrespected him.
But during Nyagarama's funeral on Wednesday last week, Nyaribo promised not to victimise anyone.
"If somebody does what he is supposed to do according to their job description, how will I start victimising them?" he told mourners while responding to various speakers that appeared to ask him to forgive Nyagarama's loyalists who troubled him during his reign as the deputy governor.
Residents are now waiting to see who Nyaribo appoints as his deputy. Some observers said clan factor and his 2022 ambitions would determine his choice of a deputy.
Yesterday's ceremony was witnessed by Council of Governors Chairman Wycliffe Oparanya, Kisii Governor James Ongwae, Devolution Cabinet Secretary Eugene Wamalwa and several local leaders.