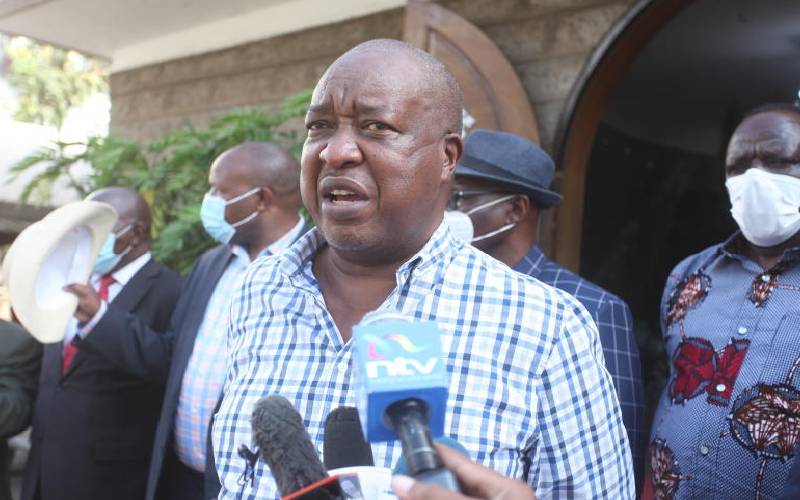 Nyamira Deputy Governor Amos Nyaribo is set to be sworn in as Nyamira governor to succeed John Nyagarama who died two weeks ago.
Nyaribo's swearing-in, according to the Assumption of Office Committee, will take place at around 11 am at Nyamira Primary School, the same place where he and Nyagarama were sworn into office after winning the 2017 General Election.
The ceremony will be attended by all elected leaders from Nyamira including MPs Joash Nyamoko (North Mugirango), Ben Momanyi (Borabu), Shadrack Mose (Kitutu Masaba) and Vincent Kemosi (West Mugirango), Senator Okong'o Mogeni, Woman Rep Jerusha Momanyi and other leaders from Gusii region.
Residents are eagerly awaiting the swearing-in of a man who has a history of intolerance on the impropriety of county resources and will never hesitate to take action against implicated officers.
When Nyagarama was undergoing treatment in the United States of America in 2018, Nyaribo fired five payroll officers over alleged enrolment of ghost workers into the county payroll.
In many occasions, he differed with Nyagarama over a number of issues ranging from corruption to appointment of officials of the county.
As he takes over the office that he, in many occasions, set up for accountability, tough hurdles await him.
As he ascends to the office, Nyamira people will be watching how he performs the cleanup of the various misdoings which have been upsetting him during the reign of Nyagarama.
Some of the issues he will deal with once in the office include completing a number of projects started by Nyagarama as well as addressing some of the issues he criticised about his former boss.
But key in the remaining one and half years in the office will be the test in the fight against runaway corruption that has riddled the county, and which he has been challenging Nyagarama to fight.
Nyaribo, over the last seven years he deputised Nyagarama, had in many occasions differed with him over issues such as illegal recruitment of county staff, payroll cleansing, lagged development and impropriety among county officials.
Residents are also waiting to see the person he will appoint as his deputy with a major focus being the clan factor, potential influence on voters, integrity and competence.
The swearing-in ceremony will be presided over by Justice Esther Maina, who is the presiding judge at the Nyamira Law Courts.