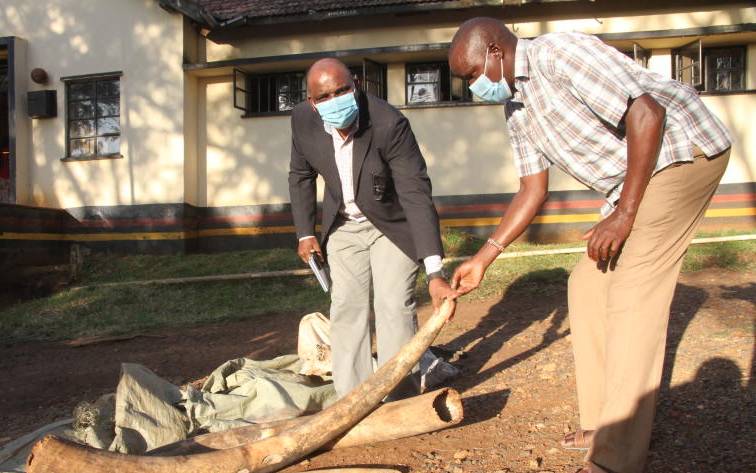 A 40-year-old suspected smuggler of elephant tusks has been arrested and detained at Migori police cell after he was found with trophies worth street value of Sh5.4 million.
The suspect was arrested by Kenya Wildlife Service (KWS) officers drawn from Narok and Migori counties who were acted on a tip-off from a member of the public.
According to Migori County Police Commander Manase Musyoka, the trophies weighing 54 kilograms were packed in sacks.
''By the effort of members of the public together with gallant officers from Langata KWS and Migori Kilgoris KWS team managed to net the tusks," said Musyoka.
The suspect is said to have packed the ivories inside a charcoal sack as he moved from Narok to Migori when the officers managed to intercept him
The police boss congratulated members of the public for giving the information that led to the arrest of the suspect.
"We want to urge members of the public to continue giving information to relevant authority dealing with illegal trades, the elephants are endangered and the future holds on what we do in terms of prevention—a collaboration between multi agency and members of the public are encouraged," Musyoka added.
However, the county police boss declined to give details of the suspect saying that will jeopardise their investigation
"The investigation is ongoing and we still need more information and the suspect is going to help us get more information."
Mr Musyoka noted that several reports have been made on illegal trafficking, adding that they have hope to confiscate more illegal good in cooperation with members of the public in Migori.
The suspect will be arraigned on Monday.