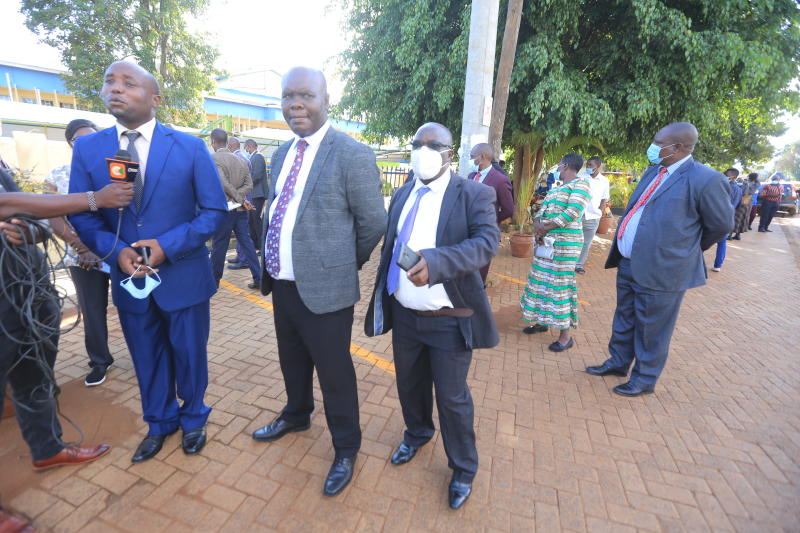 The rift between two camps in Kisii County Assembly has deepened after three members were charged in court this week with malicious damage to property estimated to be worth Sh5 million.
Attempts to impeach Assembly Speaker David Kombo have divided Members of the County Assembly (MCAs), with the division escalating earlier this week when the two camps engaged in a confrontation that led to destruction of property within the assembly.
Three charged
On Wednesday, MCAs Joseph Chweya, James Anunda and Eric Janganya were arrested and charged with damaging the assembly's main entrance door, window panes and status glass.
Read More
They were each released on a Sh50,000 cash bail or Sh100,000 bond.
The three members and 29 others had supported Bogiakumu MCA Ishmael Matundura's motion to impeach Mr Kombo, whom they accused of being a hindrance to their work.
However, pro-Kombo MCAs accused their opponents of not providing a "conducive environment" to discuss the contentious issues, including members' welfare.
They said assembly leadership had tried to convene a meeting to iron out the issues but some MCAs chose to ignore and instead set conditions to attend.
They also argued that the assembly was on recess hence acting Speaker Samuel Onukho's mandate had expired.
The Speaker, who chairs the Service Board, is accused of failing to remit funds to the insurer to enable members enjoy their Group Life Insurance and Accidents Benefits for the financial year 2019/2020.
Last week, Kombo admitted the assembly had run out of funds.
Hard times
"For a couple of months, we have not received money from the Treasury to allow us implement our plans. This was occasioned by the coronavirus pandemic," he said.
The assembly has already picked an ad hoc committee to investigate Kombo's conduct and that of other members of the County Assembly Public Service Board (CAPSB).
In the escalating internal wars, the MCAs had recalled two of their members - Daniel Apepo and Charles Nyagoto - sitting on the board.
On Thursday, Kombo's accusers visited the Ethics and Anti-Corruption Commission (EACC) offices in Kisii with issues annexed to what Deputy Governor Joash Maangi had raised when he was summoned to EACC offices in Nairobi on Wednesday.