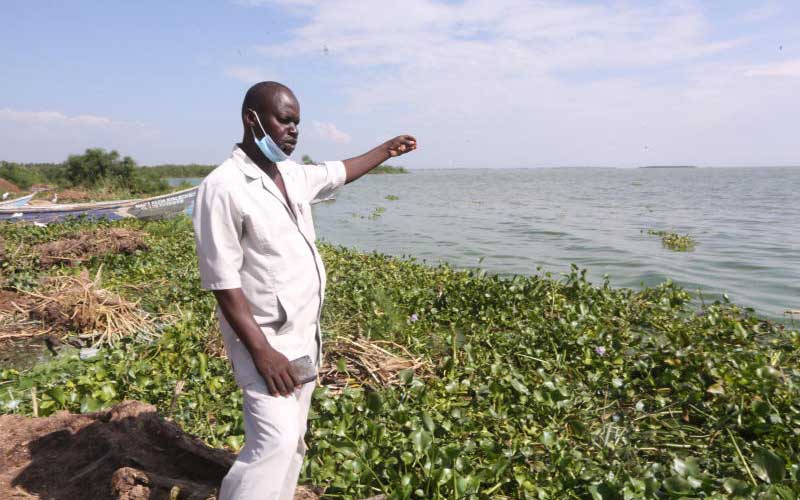 His signature Kaunda suit, sports shoes, and an A4 brown envelope have made him a celebrity at the Kisumu Lands and Environmental Court.
Michael Nyaguti does not fear facing the high and mighty, and his numerous court cases have seen multi-million projects, which would have impacted on Lake Victoria, halted.
In his latest battle, Nyaguti is facing former governors Evans Kidero (Nairobi) and Jack Ranguma (Kisumu) in a case where he claims that the two have encroached on the lake's wetland.
Nyaguti successfully moved to court to stop Governor Anyang' Nyong'o from setting up of a ship assembling site at the shores of the lake and blocked Nyanza Golf Club from developing part of the property extending onto the wetlands.
Read More
When The Standard caught up with him at his Korando home in Kisumu West on Saturday, he was perusing court papers on cases against suspected encroachers of the wetland.
Nyaguti abandoned his job as a laboratory technologist at the Kenya Forest Research Institute to venture into fishing at Ngege Beach.
"I got into fishing at a time the trade was better than formal employment, and the situation degenerated so fast due to human activities. I could not sit back and watch," says the 57-year-old.
"We could get enough fish during this period. I could make between Sh2,000 and Sh3,000 on a daily basis from my one boat," he added.
Increased interest
However, Nyaguti says things began to go south in 1990s with increased interest in land bordering the lake shores.
"People began grabbing the lake shores, and engaged in activities which not only polluted the lake, but also destroyed the wetlands which are the breeding grounds for fish and ecosystem for marine life such as hippos and crocodiles," he said.
In 2007, he was elected to head the Beach Management Units in the then Winam Division with nine beaches, where he was, among other things, expected to lead clean fishing and protection of the lake.
"One time in 2009, in our normal operation in the lake, we apprehended fishermen using illegal gears, and when we took the gears to the fisheries bosses, they were returned to the owners," he said.
And when he raised the issue, he was suspended from the position, prompting him to begin the fight to save the lake.
In one of the cases, Nyaguti wants Kidero, Ranguma, and former Environment Officer Alice Kaudia barred from interfering with wetlands.
He managed to convince the court to allow him file the case as a pauper, without having to pay any litigation charges. The case will be mentioned on January 26, 2021.
In another suit, Nyaguti succeeded in blocking Kenya Ports Authority from taking over and developing Kichinjio Beach, which was gazetted as a fish landing site.