Hippo attacks, mauls leg of Class Eight pupil in Bondo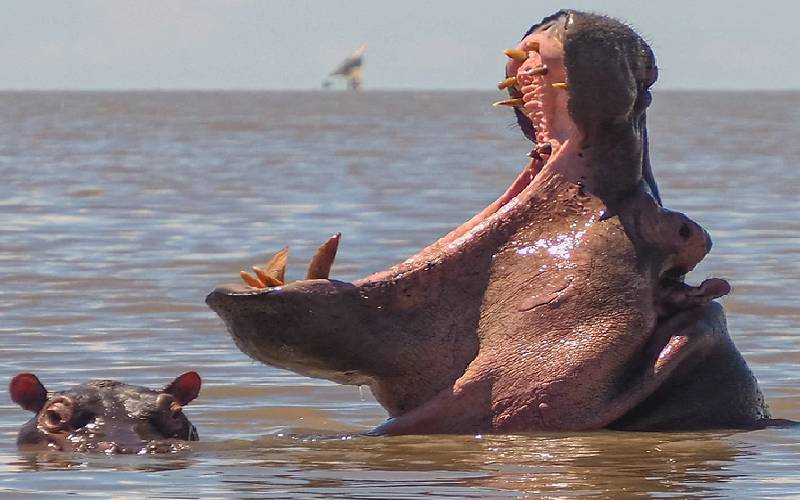 A 15-year-old Class Eight pupil is nursing injuries after he was attacked and seriously injured by a hippopotamus at Nyamnwa Beach in Bondo sub-county.
Austin Onyango is said to have been attacked by the rogue hippo and seriously mauled on the leg.
According to his father Meshack Okuku, the boy was in the company of his friends at the lakeshore when the animal which had gone to graze outside the waters attacked and seriously injured him.
Okuku who is also the Siaya County Beach Management (BMU) network chairman, stated that the issue of hippo attacks have become rampant in many beaches across the county.
"We are calling upon the government to intervene and curb the attacks," said Okuku.
He suggested that the Kenya Wildlife Services (KWS) should find a way of controlling or alternatively eliminating the rouge animals.
The boy was treated at the Bondo sub-county hospital and discharged to go back home where he is nursing injuries.
Attacks by hippos have increased sharply recently around Lake Victoria calling the attention of the Kenya Wildlife Service (KWS) over the emerging human-wildlife crisis.
Early this month, a hippopotamus attacked and drag a child to his death in Lake Victoria as screaming crowds desperately pelted the animal with rocks.
The boy had been playing by the shore in Mbita beach as adults washed clothes nearby when the hippo pounced on him and dragged him into the deep end of the lake.
In June, a nine-year-old boy was attacked by a hippopotamus at Nyamagonglo beach in Bondo Sub-County on Saturday evening.
According to a villager Lawrence Nyamolo, the Class Two pupil had gone to fetch water together with his 13-year-old sibling when they were attacked by the rogue hippo.