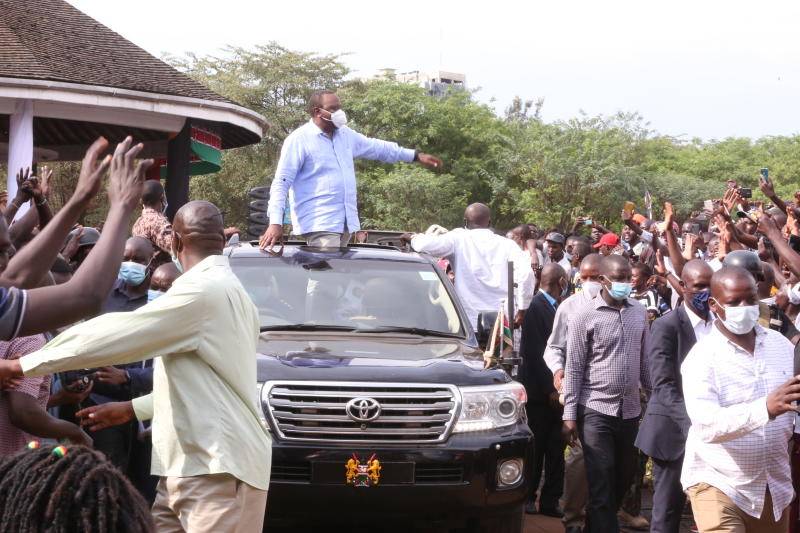 The presidential bodyguards had a tricky day during President Uhuru Kenyatta's visit to Kisumu Thursday, what with surging crowds.
At some point, ODM leader Raila Odinga spent about five minutes pleading with the crowd.
"Jothurwa, udwanyorowa (Our people! Our people! You are going to shame us)," pleaded Raila. "I will not give my address unless you maintain order and sit down."
Read More
This was after the crowd at the Jomo Kenyatta sports ground surged towards the dais. Others who were also eager to have a glimpse at the two leaders pushed their way in front.
"Everybody sit down. Even the security officers sit down or move out of here," shouted Raila.
Earlier before the two leaders arrived, the officers had done their best to keep an excited crowd at bay.
As early as 7 am, it was evident that there would be a security challenge because of the sheer numbers that were headed for the function.
And when the President delayed leaving the State Lodge, a crowed begun chanting, heading to the State Lodge, asking the president to come out.
Police officers from the General Service Unit had to restrain the crowd.
By 11 am, the President's convoy left state lodge, heading to Jomo Kenyatta International Sports Centre where he was set to place a foundation stone for the project.
Crowds poured on the road at the Junction Jomo Kenyatta Highway and Oginga Odinga Street.
A motorist was arrested after obstructing the president's motorcade.
At the Kondele roundabout, hundreds of residents filled the road forcing the presidential motorcade to move at snail speed presenting a poser to the bodyguards
The president's detail, as well as other police officers, struggled to keep the residents at bay as hundreds of them marooned the president's car, eager to see the leader who signalled to security officers to leave the crowd alone.
As early as 6 am in the morning hawk-eyed security men had taken vantage positions at various points along the presidential route.
Traffic police officers cleared the city roads of the usual morning traffic snarl-ups as they redirected traffic out of the roads leading to the central business district.
On the roadside were crowds of onlookers who stood stand by to have a glimpse of the president who is now a common visitor to Kisumu after the March 9 handshake in 2018.
Only the Presidential escort motorcade and that of Cabinet secretaries, and MPs were allowed to on the city centre road on way to state lodge.
The night before, the President hosted ODM leader Raila Odinga at the Kisumu State Lodge.
- Kevine Omollo, Harold Odhiambo and Kepher Otieno