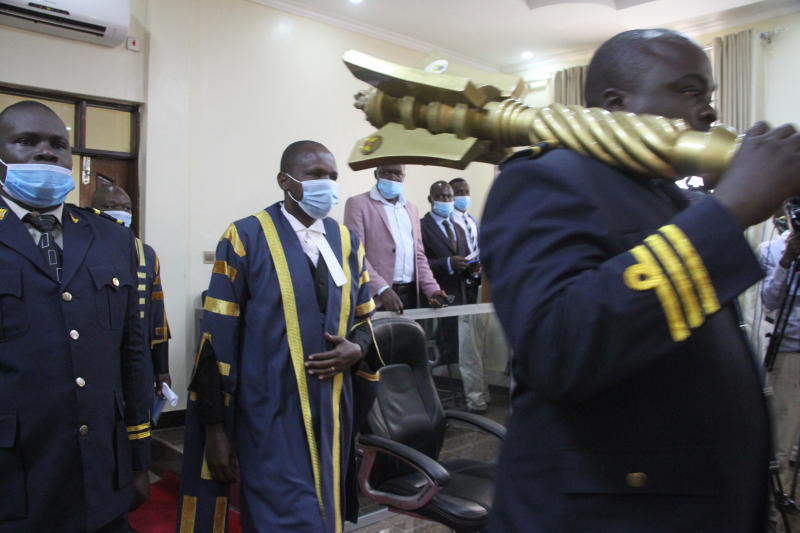 The planned tabling of impeachment motion against Migori Governor Okoth Obado has flopped for the second day.
Instead, the County Assembly Speaker Boaz Okoth surprised members, who were calmly seated, when he adjourned the session, claiming his life was in danger.
''Members allow me to make a personal statement to go on Hansard that the Governor [sic] succession politics has permeated to the floor,'' he said.
Okoth told the House that his security was withdrawn on Tuesday night in unexplained circumstances.
Read More
''Honourable members, last night my security was withdrawn. And one hour later, my home at Nyikendo home was attacked,'' he said.
This, he claimed was the second time he was being attacked as the gubernatorial succession races fast gathers pace.
The speaker said he was not sure why anybody would want to harm him.
''Why are some people doubting the credibility of this House; that Obado cannot be impeached under my watch?" he posed.
He told of how he had spent the night in the neighbourhood in fear of his life after the midnight raid at his Nyikendo home.
''Immediately my security was withdrawn, suspected thugs raided my house and terrorized my family,'' Okoth said.
The speaker then asked the Clerk of the House to read the next order on paper and surprisingly it was the motion of impeachment.
He then quickly said: ''Pass. Next order? Any message from Chair? Pass Next order? Any matter arising from the floor? Pass. There being no other order, I declare the assembly adjourned to the afternoon."
After the morning session, Okoth left for the police station, where he recorded a statement and sought for an explanation on his bodyguard withdrawal.
He was accompanied by Majority Leader Ken Ouma, the sergeant-at-arms at the assembly and MCAs allied to him.
Other MCAs retreated to secret meetings.
Okoth told Migori MCAs that even if they planned to go ahead with impeachment motion, they must behave with decorum.