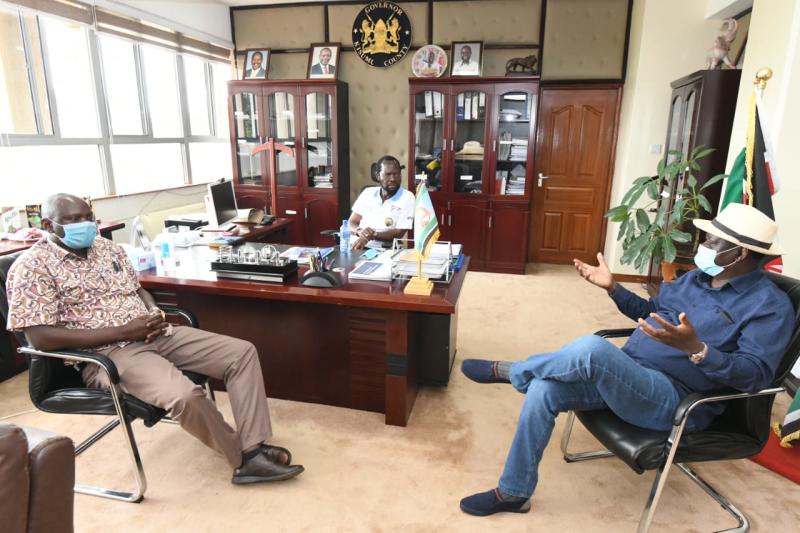 Kisumu County residents will from next week watch live assembly proceedings from various online platforms, Speaker Elisha Oraro has disclosed.
Oraro said the assembly leadership has decided to move away from tedious paper work and instead embrace technology.
''Previously the assembly has been spending a lot of money photocopying Motions and Bills to be distributed to all members. This will now be history as we go digital from next week,'' Oraro said.
In a bid to further transform the assembly's business for posterity, the speaker disclosed that members will from now henceforth submit Bills and Motions online.
Read More
"This is a milestone and an indication that the assembly as a public utility embraces open-door policy to reach out to diverse audiences,'' said the speaker.
This digital initiative will provide an opportunity for the electorate to watch and scrutinise the performance of their leaders while in session.
The initiative is a communication strategy to entrench accountability and oversight among MCAs, as well as enhance public participation.
''It will enable the public to participate in the sessions by contributing to debates through their website that is currently up and running,'' Oraro told the Sunday Standard in an interview.
Kolwa East MCA George Olwal, who is the chair of the assembly's IT Committee and a digital expert, said all members are already being trained on the use of new forms of technology.
''We want all members to be technology savvy,'' Omondi said, as the speaker added that once they have been trained, they will be issued with tablets purchased by the county assembly.
The gadgets will enable members conduct proper research before tabling Bills in the House, just as is done in the Senate and the National Assembly.
''All members must be digital or ICT compliant going into the future and we have set aside about Sh2 million to invest in ICT training and procurement of the gadgets for use,'' said Oraro.
The assembly resumed on Tuesday this week after a short recess.
According to Omondi, the Assembly Broadcasting Unit has already been empowered with necessary tools that will enable it to transmit live proceedings of the House through various channels.
These include YouTube and Facebook to enable members of the public to know what's going on in the assembly and to also participate and gauge the performance of their elected representatives.
''The trial is already ongoing ahead of the roll out next week. We will be live on Facebook and YouTube,'' the speaker said.
The digital programme is in line with the Ministry of Health Covid-19 protocols, which encourages physical distancing as a way of minimising the number of people visiting the assembly for proceedings.
''We are also using zoom app for those members attending remotely as we introduce the e-Parliament system and digitise our operations,'' Majority Leader Ken Onyango said in a separate interview.
He said the digital project will cut the cost of printing and other maintenance expenditure, which by approximation cost them in excess of Sh10 million per year. This will now be saved for other services.
Like Oraro and Omondi, Onyango too was happy that the project is a new milestone and will encourage more participation, improve the work of the House and secure a more vibrant political institution.
According to Omondi, the digital system consists of customised iPads and a mobile media manager solution.
The MCAs will be able to log in from any seat in the chambers using customised account profiles.
The centrally managed paperless solution will equally enable the county legislators to access documents in various forms, including video, Word, Excel, Ms Word and PDF.
Scanned documents will automatically be uploaded and tagged into the County Integrated IT solution for easy access and public scrutiny in a move aimed at enhancing open governance and accountability.
The system will support multiple assembly committee functions such as composition, sitting matrix and tabling of various House Committee reports. It will also track resolutions made by the assembly.
Going forward, Oraro declared that various modules such as order paper, communication from the chair, messages, petitions, bills, votes and statements will be displayed.
They will also use automated notification system to notify and remind the MCAs and their various committees of the pending tasks requiring their attention, as well as upcoming events.