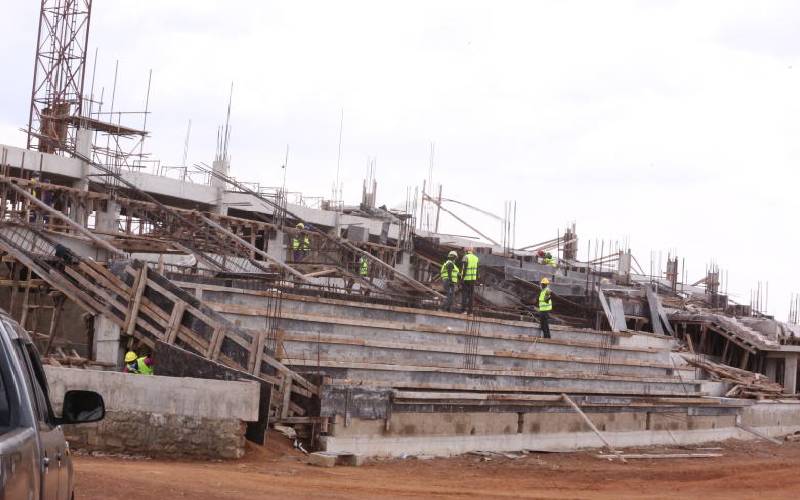 Sportsmen will have to wait a little longer to use the Siaya Stadium that is still under construction.
But the sports fraternity is protesting the slow pace of the Sh394 million project, dismissing the county's explanation that it was due to the coronavirus pandemic.
The construction of the stadium began in February, last year, and was expected to take only 10 months. The initial completion date was December 2019, but the county government has now revised it to December 2020.
William Owino, the Athletics Kenya Siaya branch assistant secretary-general, dismissed the Covid-19 excuse, saying the works have been generally slow.
He said they expect the project will be completed by the end of this year to give athletes from the county an opportunity to use it in preparation for world under-20 championships to be held in July, 2020.
"We have identified our own athletes from the county who need to start practising soon. Right now, we do not have proper training fields," said Mr Owino.
Although it is 70 per cent complete, according to the county government, the ongoing construction has been affected by procurement of materials from Nairobi which was affected by the government containment measures against Covid-19.
Good pace
Tourism and Sports Executive Charles Ogada told The Standard that construction was going on at a good pace with public terraces of associated facilities at 90 per cent complete and the main pitch at 50 per cent complete despite a few challenges.
Among the challenges that had slowed the project that was to be completed by January, this year, is the closure of key service offices relevant to the project like material laboratory testing and consultants' offices.
Mr Ogada said reduced workforce due to social distancing rules instituted by the government because of Covid-19 was also among the challenges affecting the project.
"Bad weather with the long rains falling mostly during the day and causing flash flooding has also been a challenge," said Ogada.
The project, whose main contractor is Jiangsu Provincial Construction Ltd, is one of Governor Cornel Rasanga's flagship projects. It was aimed at transforming sports in the county through the development of sports talent.
The Sports CEC said once complete, the stadium will attract and host high-profile matches and meetings of local, national and international standards.
Mr Ogada said the overall cost of the stadium is Sh394 million but there are variations due to structural adjustments that have come up in order to increase the usability of the facility.