Kasipul MP Ong'ondo Were pleads guilty to violating Covid-19 rules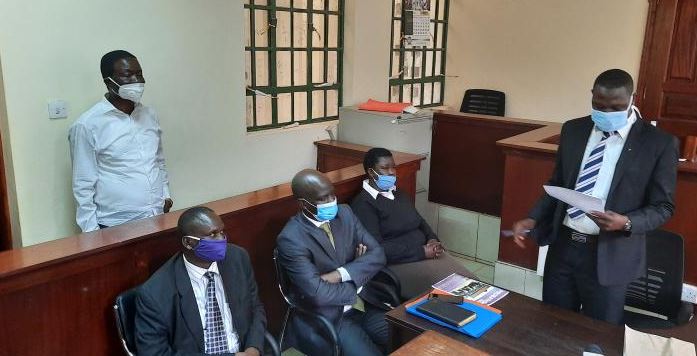 Kasipul Member of Parliament Ong'ondo Were (in the dock) has pleaded guilty to violating Covid-19 restrictions and fined Sh15, 000.
The MP was arraigned on Wednesday morning and pleaded guilty to breaching the guidelines provided by the Health Ministry in containing the spread of the coronavirus.
He was arrested on Tuesday evening, booked at the Oyugis Police Station and later released on free bond.
Were was accused of violating Covid-19 rules for holding a public gathering.
The MP was opening the newly built office of Sino Kagola Sub-location assistant chief in his constituency. Then after, he is said to have gone for lunch at a nearby home near Nyang'iela trading center.
The agenda of the meeting was to discuss development projects in Kasipul.
Police officers who were acting on a public tip-off then went after him and asked him to make way to Oyugis Police Station. Residents complained that the meeting was a large crowd instead and failed to follow the Covid-19 health guidelines.
Homa Bay County Police Commander Esther Seroney confirmed that they interrogated the MP over the alleged offence.
"We got a tip off the public that the MP was addressing a public gathering in a manner that contravened the Covid-19 prevention rules," Seroney said.
The MP, however, denied being detained at the station. He said, "I am not in a police cell and I am eating in my house even as we speak."
"The OCS found me eating with a few people eating inside a house. There were some people outside but they wore masks and were keeping social distance," he added.