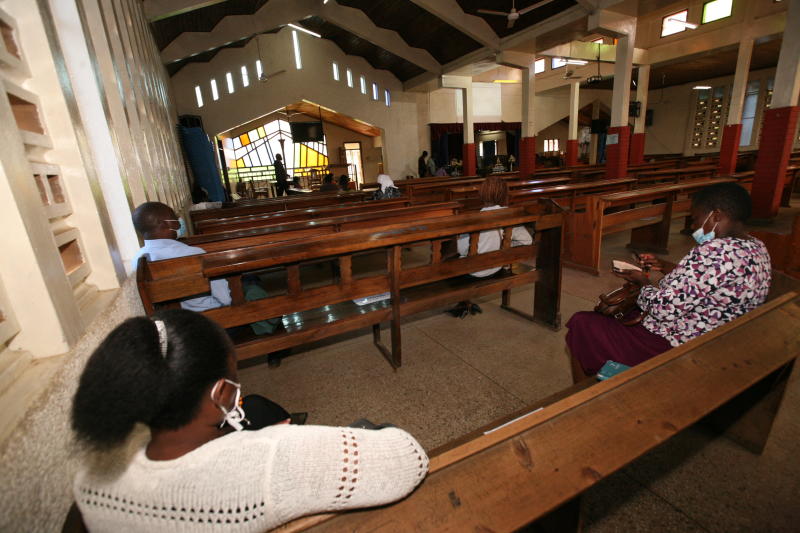 A number of churches opened for service on Saturday, under a new dispensation where congregants had to observe strict health guidelines to curb spread of coronavirus.
The Sunday Standard sampled a number of Seventh-Day Adventist (SDA) churches in Kisumu and Kisii and the attendance was low.
At Kisumu Central SDA church, the old norm where the facility would host up to 1,500 members was not the case, with only 100 allowed to worship per session.
Unlike in the past, faithful had to stream in one by one and had to go through thorough screening. Contrary to the norm of a services running from 9 am to 1pm, the mass was strictly one hour per session.
According to Pastor Henry Akatch, they had no alternative but to obey the authorities word.
''We have marked all the benches and number them to observe social distancing,'' explained Akatch.
The first session, which started at 8am only attracted about 51 people. The second service attracted 98 people.
At churches such as Roho Israel, Roho Msanda, Roho Nineve social distancing was observed, with some recording very low turn out.
At Roho Israel Church in the informal settlement in Nyalenda and another at Nyamasaria only nine out of the usual 50 to 100 turned up.
A faithful James Omollo, said they were expecting more to attend but only nine faithful out of the usual 50 or so.
Sources revealed that some people were still cagey to attend prayers. In Kisii, the more than 400 churches under the Seventh-Day Adventist Church South Kenya Conference did not hold services.
Acting Conference President Lenard Aencha said the churches had to meet all Covid-19 requirements before being reopened.
Speaking to Sunday Standard on the telephone yesterday, Aencha said while it was expected that SDA churches were to resume, it did not happen since they wanted to make sure their congregants were safe.
Aencha said the church leadership will meet on Monday to review whether churches had complied with government directives before they can resume services.