Kisumu cop accused of defiling girl aged 15, impregnating her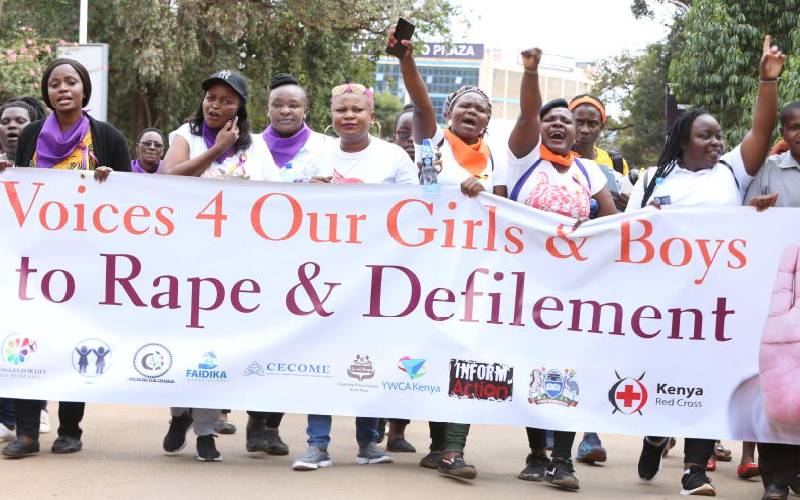 Police in Kisumu county are investigating an incident in which a Seme police officer is accused of defiling and impregnating a 15-year-old girl.
The officer who works at Kombewa station is further accused of trying to bribe the family to drop the case.
Seme Sub-county police boss Hellen Rotich on Saturday said investigations are ongoing even as the girl's parents consider settling the matter out of court.
Cases of girls being defiled by police officers, whom they expected would protect them, are commonplace.
Last December, a police officer reported to have defiled a 15-year-old girl
for eight months
was arrested in Homa Bay County.
The police constable based in Ndhiwa is said to have started defiling the girl in January, when she went to seek protection at the station following a domestic dispute with her family.
In a strange turn of events, the officer allegedly seized the opportunity, locked the girl in a cell, from where he would sneak her into his house every night and return her in the morning.
The girl's widowed mother reported the matter to senior officers when she learnt her daughter was being defiled.
When young girls are not being preyed on by police officers, they fall victim to healthcare workers.
In March, police in Ugunja Sub-county launched investigations into the alleged defilement of a 14-year-old girl by a health worker at a private hospital.
According to the girl's father, his daughter who is a Standard Seven pupil, had gone to seek treatment at the hospital where she was allegedly defiled by a health worker identified only as Allan.
The distraught father told The Standard that his daughter went to the hospital on February 29 and was admitted before the health worker moved in the following day and molested her.
According to the minor, the suspect allegedly went into the room where she was admitted on Sunday, March 1 and touched her private parts indecently under the disguise of testing her temperature.