Omondi Long'lilo, another benga star, dies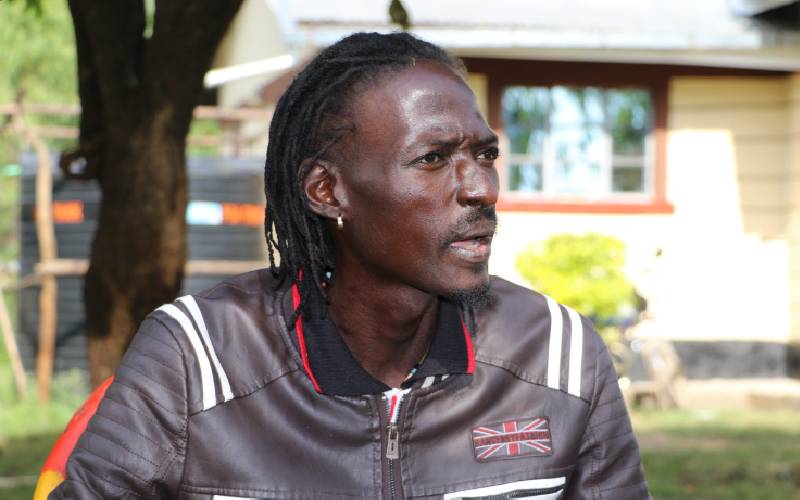 Another popular Benga musician, Erick Omondi, has taken the final bow, further plunging the entertainment industry into gloom.
Omondi (pictured) was a former member of the legendary Nabi Kings Band, popularly known to his fans as Omondi Long'lilo. His death has left Benga music lovers in shock.
The 37-year-old musician, known for hit song Goretty Awino, died on Tuesday morning at Bondo sub-county hospital, where he had been admitted for more than a month. Prior to his death, Omondi had made a passionate appeal to his fans in April to help him get back to his feet after poor health and financial problems.
Speaking to The Standard on the telephone, Goretty Awino, Omondi's widow, said his death was a big blow to the family.
"All through he put on a brave face in his hospital bed, giving his fans hope. However, we knew too well he was not in good health," said Awino.
The widow described her late husband as a loving, caring and hardworking man, who had passion for his work.
Awino narrated how their 16 years of marriage survived turbulence.
"I was staying with my aunt and that's how we met and got married. He loved rearing livestock and hunting," said the widow, adding that the hit song "Goretty" was in praise of her.
Benard Odhiambo, aka Odhiambo Tusker, who was a colleague and friend, said Long'lilo was his mentor.
"He joined music ahead of me and it was very easy to know when and where he was performing because he had a very unique way of doing things," said Odhiambo.
Omondi thrilled his fans with his husky voice and engaging lyrics during his prime days when he sang alongside a legendary Luo Benga icon Elly Akuma, popularly known as Osito Kalle.
Some of his hit songs are Were Wuod Ogalo, Okoth Mang'ang'a, Kong'o shida, Anita Nya Usonga and Thomas Mwaya. In his song Japuonj, Omondi praises Osito Kalle for his ability to nurture novice singers like himself, Odhiambo Tusker, Aluoch Pamba, Atommy Sifa, Ogina Koko (currently Ramogi FM presenter) and many others.
Omondi left Nabi Kings band and established Migwena Kings band.
Yesterday, Kalle, who received the news with great shock, said Omondi was disciplined and loved music.
"He's my nephew and was orphaned at a very tender age. We nurtured him and I am happy that he followed his dream with a lot of passion and determination," said Kalle.
His death comes barely a week after Ohangla fans were shocked with the sudden death of Abenny Jachiga, who died in Kisumu after a short illness. Jachiga was buried within 48 hours of his death against the wishes of his fans.
First loss
In April, before Jachiga's death, Ohangla lovers also mourned Ally Pesa of BV Band.
"It has not been a good year for us after losing Ally Pesa of BV Band and Abenny Jachiga during this period under Covid-19 pandemic," said Odhiambo.
Odhiambo, however, said he could only draw positives from his mentor's death.
"My friend's death has taught me a lot of lessons and I, therefore, appeal to everybody that we should give attention to our health. We shouldn't wait until one falls sick in order to go to the hospital because it might be too late," added Odhiambo.
Olima Gondi, the family's spokesperson, told The Standard that the artiste was to be on life support but declined.
"He was to use the machines to aid his breathing but he told the nurses that it was needless. After that he succumbed," said Gondi.
His body is currently at Bondo sub-county hospital mortuary, as the family meets to make burial arrangements.